« Unnhhhh...
|
Main
|
Top Headline Comments 08-12-08 »
August 12, 2008
PETA Pushes To Advertise On (yet unconstructed) Border Fence
They want to warn potential illegal immigrants about the dangers that await them in the land of plenty. The land of plenty of cheeseburgers and fried chicken.
If the Border Patrol Doesn't Get You, the Chicken and Burgers Will - Go Vegan.
I do not know the spanish word for vegan so I'll leave the translating to you morons.
"We think that Mexicans and other immigrants should be warned if they cross into the U.S. they are putting their health at risk by leaving behind a healthier, staple diet of corn tortillas, beans, rice, fruits and vegetables," said Lindsay Rajt, assistant manager of PETA's vegan campaigns.
Advertising plans include photographs of healthy, fit and trim Mexicans in their own country (I see a problem here) contrasted with fat Americans "gorging on meaty, fat- and cholesterol-packed American food."
But PETA is looking for the win-win.
Rajt said the rent money they'd pay would help offset the huge costs of the fencing — and the advertising message "might even be frightening enough to deter people from crossing into the U.S."
I have a suggestion,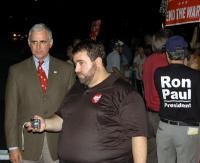 Half measures will avail you nothing.


posted by Dave In Texas at
08:33 AM
|
Access Comments