« Federal Court Tosses CBS' "Wardrobe Malfunction" Fine, Calling It Arbitrary and Capricious
|
Main
|
Disordered Leftist Comment of the Day: Dana Goldstein on Real Estate »
July 21, 2008
Genuine Shock: New York Times Runs Obama Editorial, Refuses to Run McCain's
This isn't ironic "shock," because here I really am shocked the New York Times would be this brazen.
An editorial written by Republican presidential hopeful McCain has been rejected by the NEW YORK TIMES -- less than a week after the paper published an essay written by Obama, the DRUDGE REPORT has learned.

The paper's decision to refuse McCain's direct rebuttal to Obama's 'My Plan for Iraq' has ignited explosive charges of media bias in top Republican circles.

'It would be terrific to have an article from Senator McCain that mirrors Senator Obama's piece,' NYT Op-Ed editor David Shipley explained in an email late Friday to McCain's staff. 'I'm not going to be able to accept this piece as currently written.'

MORE

In McCain's submission to the TIMES, he writes of Obama: 'I am dismayed that he never talks about winning the war—only of ending it... if we don't win the war, our enemies will. A triumph for the terrorists would be a disaster for us. That is something I will not allow to happen as president.'

NYT's Shipley advised McCain to try again: 'I'd be pleased, though, to look at another draft.'

[Shipley served in the Clinton Administration from 1995 until 1997 as Special Assistant to the President and Senior Presidential Speechwriter.]

MORE

A top McCain source claims the paper simply does not agree with the senator's Iraq policy, and wants him to change it, not "re-work the draft."
It's simply extraordinary that they're denying McCain a forum offered to Obama, and of course denying their readers an essay by a presidential candidate on the issue of war and peace.
Why would they go this far? I have no idea. But I'm guessing this section was embarrassing for the paper...
Progress has been due primarily to an increase in the number of troops and a change in their strategy. I was an early advocate of the surge at a time when it had few supporters in Washington. Senator Barack Obama was an equally vocal opponent. "I am not persuaded that 20,000 additional troops in Iraq is going to solve the sectarian violence there," he said on January 10, 2007. "In fact, I think it will do the reverse."

Now Senator Obama has been forced to acknowledge that "our troops have performed brilliantly in lowering the level of violence." But he still denies that any political progress has resulted.

Perhaps he is unaware that the U.S. Embassy in Baghdad has recently certified that, as one news article put it, "Iraq has met all but three of 18 original benchmarks set by Congress last year to measure security, political and economic progress." Even more heartening has been progress that's not measured by the benchmarks. More than 90,000 Iraqis, many of them Sunnis who once fought against the government, have signed up as Sons of Iraq to fight against the terrorists. Nor do they measure Prime Minister Nouri al Maliki's new-found willingness to crack down on Shiite extremists in Basra and Sadr City—actions that have done much to dispel suspicions of sectarianism.

The success of the surge has not changed Senator Obama's determination to pull out all of our combat troops. All that has changed is his rationale. In a New York Times op-ed and a speech this week, he offered his "plan for Iraq" in advance of his first "fact finding" trip to that country in more than three years. It consisted of the same old proposal to pull all of our troops out within 16 months. In 2007 he wanted to withdraw because he thought the war was lost. If we had taken his advice, it would have been. Now he wants to withdraw because he thinks Iraqis no longer need our assistance.

... given that the paper has made a top-down decision to not report that the surge has succeeded at all.
Heaven knows why 49% of the public think the media will try to help Obama win.
Looking at the cross-tabs, 12% answered "I don't know" regarding the media's desire to help Obama; 29% answered "I can't answer due to being distracted by small shiny objects." Another 10% answered "I'm tripping my face off on acid and there's no way I can answer your questions while sinister locusts are eating all of the color red out of my mind-ship."
Related: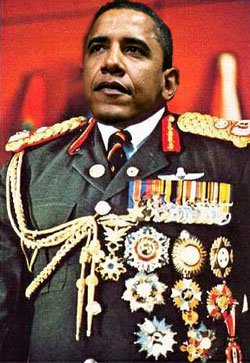 The New York Times will be running each and every
editorial El Jefe Maximo pens for the next
eight to ten years of his presidency.
Photo credit: Slublog Newswire.
More on Media Bias Poll: Instapundit notes that 50% believe the media are reporting the economy worse than it actual is, and a plurality believes the same about Iraq.

posted by Ace at
12:51 PM
|
Access Comments