« Yes, Finally: Cheetos Porn
|
Main
|
Mongol: Unauthorized Biography on Film (genghis) »
June 18, 2008
Obama Foreign Policy Adviser: The Messiah Isn't Naďve, He's Just Stupid Or Something
Remember Obama's AIPAC speech where he said "Jerusalem will remain the capital of Israel, and it must remain undivided" and then had to back track a day latter when he realized that pissed off the Palestinians and overturned like 40 years of US policy?
Turns out that's not proof of anything bad about Obama's foreign policy judgment and experience, such as they are because words don't matter unless they are helpful to Him. Otherwise, don't worry about it.

Democrat Barack Obama misused a "code word" in Middle East politics when he said Jerusalem should be Israel's "undivided" capital but that does not mean he is naive on foreign policy, a top adviser said on Tuesday.

…Daniel Kurtzer, who advises Obama on the Middle East, said Tuesday at the Israel Policy Forum that Obama's comment stemmed from "a picture in his mind of Jerusalem before 1967 with barbed wires and minefields and demilitarized zones."

"So he used a word to represent what he did not want to see again, and then realized afterwards that that word is a code word in the Middle East," Kurtzer said.
This is supposed to make people feel better about Obama's grasp of key issues, how exactly?
The fact that someone didn't know that 'undivided' or 'divided' would set off a firestorm on one side or the other when applied to Jerusalem should disqualify that person from blogging on the subject. But here's a guy running for President on a platform of being the superior candidate when it comes to diplomacy and it's no big deal he didn't know what he was saying?
Also, this wasn't some off the cuff remark, it was part of a major speech to a group he knew he need to score with and yet this kind of slapdash language gets though?
Remember, this is Obama's national security and foreign policy team…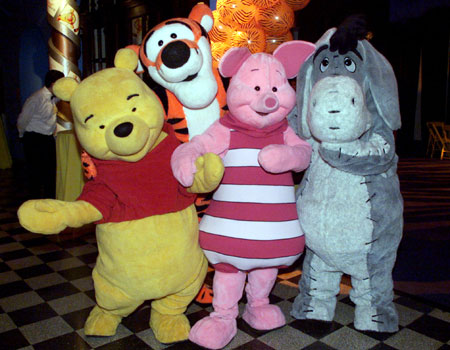 I am not sure which one Kurtzer is.
h/t The Corner
And thanks to Slu for the non-photoshop photo.

posted by DrewM. at
09:15 PM
|
Access Comments