« Yet Another Disgraced, Arrested Obama Adviser
|
Main
|
Chris Dodd Was Informed of Special VIP Status Regarding Countrywide Loan, But Claims He Never Suspected That Gave Him a Special Rate »
June 18, 2008
Kos' Supposed Obama Birth Certificate -- F A K E ?
Update: Maybe Not
Update: Dead Issue, Says Charles Johnson
Above-the-Article Update: Johnson of Rathergate fame says there's no there there.
He says the pixelation is unremarkable in image compression, and that Hawaiian government workers say the document looks real enough to them.

...
I'm not capable of evaluating the technical case here but to a layman, it seems compelling.
Do I know it's fake? No. Do I think it's fake? Yes. It's suspicious as hell, though it's possible that a real Certification of Live Birth also has these suspicious-looking anomalies.
Whatever the case of course, this doesn't prove that Obama wasn't born in the US (or whatever the theory is as to why his birth certificate is important).
It does, however, seem to establish that:
1) The Kos Kidz learned much from Dan Rather and Bill Burkett, but not enough; they still don't know how to hide their forgeries, but that's not so important, because the Leftist/Media Collective pretends forgeries are real when it's in their interest to do so.
and
2) Obama let this forgery stand because it was politically helpful to him.
I guarantee you that the MSM, which often proclaims blogs have no credibility, believes that this fake settles the issue and thus disobligates them from doing what they strongly wished not to do anyway (that is, ask Obama for his birth certificate).
And of course they all are familiar with Kos and all the big leftwing bloggers. They're big blog readers. They just never read conservative blogs, except when they want to discover an inappropriate comment they can use to discredit the blog as a whole.
They didn't report on this story (which, admittedly, is likely a non-story), but one of the reasons for avoiding reportage was the "fact" that Kos had already "disproven" it.

I don't put much stock in the whole Obama-born-in-Kenya-and-thus-constitutionally-barred-from-seeking-the-presidency theory, but that theory, whatever there is to it, remains viable. The "proof" offered by Kos looks, at least to a layman, fraudulent.
What is really needed here is for a Hawaiian to request his own "Certification of Live Birth" from his state government so we can compare, and see, for example, if the certification provided has headline-slugs (which one would expect to be pre-printed, and thus of a different font than than the information printed beneath them) in the same font as the actual personal data.
While I don't expect this line of inquiry to go anywhere, I can't help but noting the MSM, particularly the NYT, published several pieces questioning whether John McCain's birth in Panama (as the son of a warfighter deployed overseas) disbarred him from seeking the presidency.
Seems they could assign a single reporter to determine if Barack Obama was, indeed, born in the US.
Update: Slublog did an experiment and used photoshop to put in letters. He didn't get the pixelation strangeness seen in the document.
Slu's experiment: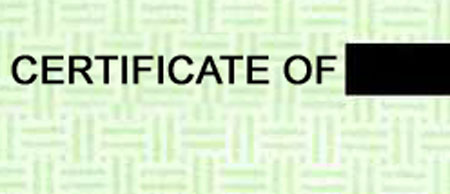 So photoshop does not necessarily equal pixelation, and pixelation does not necessarily equal photoshop.
Others have suggested this effect could be due to image compression. I get the basic idea of what that is but I don't understand why it should affect the area around letters and not, for example, the basic background of the document. Can anyone explain?
And can anyone explain why it should be this document is only available on the web? Why doesn't Obama make a true paper copy available for inspection?

posted by Ace at
03:52 PM
|
Access Comments