« Genetically-Modified Bugs Eat Waste, Excrete Crude Oil?
|
Main
|
Ace Quote Poll [dri] »
June 16, 2008
The Anointing
Right now on all the cable channels (except Fox) Saint Al Gore is officially blessing endorsing Obama.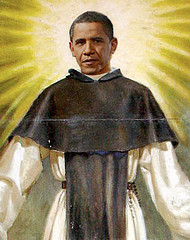 An interesting note, Gore says he respects McCain's willingness to address global warming. Oh joy.
Gore was plausibly lifelike this evening. As Karl Rove pointed out, rolling Gore out in Michigan is kind of an odd choice considering the toll Gore's policies would take on the auto industry if adopted.
I'll try to find a transcript but Gores speech really did have the whole revival meeting feeling. It's rather creepy to say the least.

posted by DrewM. at
09:08 PM
|
Access Comments