« Jack Lucas, USMC, RIP
|
Main
|
Bush "lied"? »
June 06, 2008
Remember
Sixty four years ago today, the final push to liberate Europe from the Nazis. Over the next three months, almost three million men would cross the English Channel as part of the largest amphibious assault in history.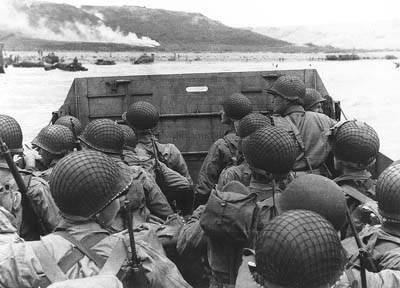 Omaha Beach
I did a post on this last year on my old moron-blog, if you'd like to read more. Here is the text of the message Gen. Eisenhower wrote, but thankfully never read:
Our landings in the Cherbourg-Havre area have failed to gain a satisfactory foothold and I have withdrawn the troops. My decision to attack at this time and place was based on the best information available. The troops, the air and the Navy did all that bravery and devotion to duty could do. If any blame or fault attaches to the attempt, it is mine alone.

UPDATE: An honored D-Day vet.
UPDATE2: Commenter Circa (Insert Year Here)... I'm inserting 1944, in the Jack Lucas thread linked this speech by President Ronald Reagan at a memorial ceremony at Point-Du-Hoc.
Great stuff. Rangers lead the way.


posted by Dave In Texas at
09:29 AM
|
Access Comments