« Obama's Jesuit Buddy Praises Farrakhan, Peddles Goverment-Put-Drugs-Into-Black-Community Conspiracy
|
Main
|
Obama: Like Dan Quayle Only Dumber »
May 31, 2008
"Snowball Earth" (genghis)
Uh, I don't even know where to begin:, but let's start at the top.
" The rapid release of methane into the earth's atmosphere 635 million years ago caused runaway global warming, and may happen again in the near future, a new study reports."

"The study, which appears in this week's edition of 'Nature' provides an insight into what may happen to the earth's atmosphere if today's frozen methane deposits in Canada, Siberia and Alaska begin to thaw."

"During the Cryogenian period (850-630 million years), earth was completely frozen over, with glaciers that crept down into the tropics and possibly even reached the equator."
We had a Cryogenian period? (For educational purposes, a period can mean any of the following: (1) A long time, (2) A little dot at the end of a sentence, and/or (3) Why you're sleeping on the couch tonight, you insensitive bastard .)
"But after 155 million years of being in a deep freeze the earth warmed dramatically.

How this happened has been fiercely disputed, although all agree that the event changed the planet's climate system and ocean chemistry forever.

Scientists now point the finger at methane clathrates. These methane-rich ice deposits form under ice sheets at specific temperatures and pressures."
Spell-check helpfully informs me that "clathrates" is not an actual word, so I'm guessing that the authors of the study misspelled it and were actually referring to this, which would make a lot more sense.
"As the clathrates began to evaporate, they released methane, which helped trap more solar heat and warmed the planet. This thawed more clathrates, fuelling further warming and so on, creating a vicious circle.

Methane is considered a prodigious greenhouse gas, being 30 times more efficient than CO2 in trapping solar heat."
Efficient. Now that's what I like to see in a greenhouse gas.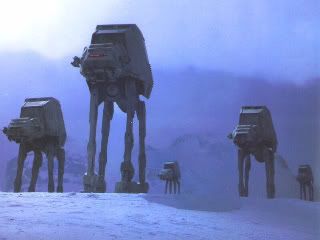 Artist's depiction of a herd of Cryogenian period Mastodons. Sadly extinct as a result of their own flatulence.

posted by xgenghisx at
09:17 AM
|
Access Comments