« San Francisco to install "homeless" parking meters
|
Main
|
Michael Moore Announces Sequel to Fahrenheit 9/11, Eats Sandwich Bigger Than His Own Head »
May 13, 2008
More Bad News For Republicans...This Time In Mississippi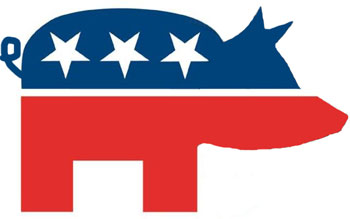 New GOP logo
"Once is happenstance. Twice is coincidence. The third time it's enemy action."
-Auric Goldfinger
For the 3rd time a Republican candidate goes down in a special House election.
This time the Democrats have taken the 1st CD in Mississippi.
Democrat Travis Childers wins a U.S. House seat in Mississippi's deeply Republican 1st Congressional District.

Childers defeated Republican Greg Davis in a special election to fill the final few months of a two-year term in Congress. The seat was vacated when Roger Wicker was appointed to the U.S. Senate after Trent Lott resigned.
This is a district that Bush carried by
25% in 2004.
Yes, the Illinois and Louisiana seats had their own particular issues and special elections are funky by nature but going 0-3 in traditionally Republican seats doesn't portend well for November.
UPDATE: The chairman of the National Republican Congressional Committee, Rep. Tom Cole issued a statement following tonight's vote. The gist? We've got trouble.
...the political environment is such that voters remain pessimistic about the direction of the country and the Republican Party in general. Therefore, Republicans must undertake bold efforts to define a forward looking agenda that offers the kind of positive change voters are looking for. This is something we can do in cooperation with our Presidential nominee, but time is short.

"I encourage all Republican candidates, whether incumbents or challengers, to take stock of their campaigns and position themselves for challenging campaigns this fall by building the financial resources and grassroots networks that offer them the opportunity and ability to communicate, energize and turn out voters this election.
Good luck with that gang.
UPDATE x2 (via Hot Air)
House Minority Leader John Boehner says, you want change? We'll give you change.
...this is a change election, and if we want Americans to vote for us we have to convince them that we can fix Washington. Our presidential nominee, Senator McCain, is an agent of change; candidates who hope to succeed must show that they're willing and able to join McCain in a leading movement for reform. We need to stop wasteful Washington spending, fight and win the war on terror, , and stop the largest tax increase in history.
If only Republicans had been in charge of the White House and the House of Representatives when all this spending was going on for 6 years....

posted by DrewM. at
10:22 PM
|
Access Comments