« Happy Mother's Day
|
Main
|
A Friend of AoS Lost a Friend Yesterday »
May 11, 2008
Worried with 2 siblings, Mother's love was diluted? [krakatoa]
Try growing up with 17 brothers and sisters.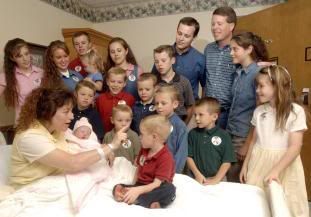 LITTLE ROCK, ARK. — Mother's Day draws a crowd in the home of an Arkansas woman — she is pregnant with her 18th child.
I'm all for people having kids. And they seem happy enough, and apparently have a good method for keeping the family unit working like a machine.
The family has become well-known through news coverage of new births and with programs about them on Discovery Health, which is filming the family again.

The new show looks at life inside the Duggar home, where chores — or "jurisdictions" — are assigned to each child.
It doesn't hurt that they have a 7000 square foot house, or that they live in Arkansas, where they are probably only the 3rd or 4th strangest thing to talk about. (I understand the puzzle of how Bill Clinton found the time to actually run for anything other than the Dog Catcher's wife is still a big topic of discussion.)
But seriously, how does mom not just split apart at the seams?
Michelle Duggar, who has been pregnant for 11 years of her life, said she and her husband will continue to have children as long as God wills it.
Well, God and Jim-Bob's "Army of Davids", as it were.
The paper asks the obvious question of how they afford it all. Gotta say I'm just a little suspicious of the answer:
Jim Bob Duggar, a former member of the Arkansas Legislature and an unsuccessful U.S. Senate candidate, has not been specific when asked how he supports such a big family. But he said he was guided by a seminar about 20 years ago — a system he still advocates — that blends finance and religion.
Kinda reminds me of the time I was having a talk with the owner of a Mexican Restaurant. He's explaining to me what a great racket the business is: 90% of the menu comes from 5 pots of ingredients kept warm on the stove, mixed in varying ways. The hired help is cheap, and will work their asses off. And the profit margin is huge.
"How do I get into this business," asks I.
"Oh!" sez he. "You" - (meaning Gringos) - "don't."
We laughed and laughed. At least he gave me free food.

posted by xgenghisx at
02:17 PM
|
Access Comments