« Hmmm: Harold Ickes Attempts Moving the Goalposts; Claims 2,209 Delegates Needed to Clinch, Not the 2,025 People Have Been Accepting For.... um, Ever
|
Main
|
Lion v. Crocodile v. Water Buffalo Vid Spawns National Geographic Special »
May 06, 2008
Indiana Isn't In The Bag For Hillary Yet
UPDATE: Fox Finally Calls Indiana For Hillary at 1:14 AM, With Narrow 22,000 Vote Victory
Lake County (which includes Gary, essentially a Chicago suburb) is finally coming in at 11:50 and Obama is winning by almost 3 to 1. Clinton's lead is down to 20,000 votes. Rove says if these margins hold up Obama will win Indiana.
I don't think it matters. She can't 'win' by 2 or 3 points and claim a victory.
Alas, my gal is down and out. Hillary, I hardly knew ye.
More [Gabe]: Gary Mayor Rudy Clay Predicts Obama Suprise:
"Let me tell you, when all the votes are counted, when Gary comes in, I think you're looking at something for the world to see," Clay, an Obama supporter, said in a telephone interview from Obama's Gary headquarters. "I don't know what the numbers are yet, but Gary has absolutely produced in large numbers for Obama here."

[...]

"It takes a little time. We want to be sure that every vote is counted fair and right," he said. "I just talked to the director out there and they are working like junkyard dogs to get that done as soon as possible. They are taking some time but I told them to do it right. That's what taking the time."
"Working like junkyard dogs" is a favorite phrase of Clay. He's been predicting an Obama shock for a month now.
[Ace:] Game Over, Man! Game Over!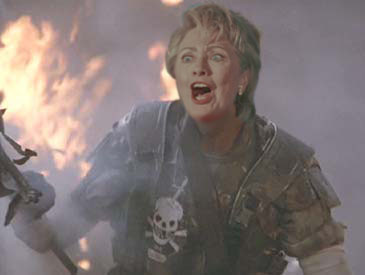 From Slublog. That's Hicks Hudson in Aliens, btw.
So... It does seem to be over, eh?
Now that Hillary's out... Who the hell do we root for?

Update [Ace]: Hillary barely wins the state, loses the nomination.