« Orang-Utan Photographed Spear-Fishing
|
Main
|
Context: Hugh Hewitt Plays the Full Wright Sermons that the MSM Claims are Unobjectionable "In Context" »
April 27, 2008
Dubious: Aurora Spyplane Photographed
Or, 99.99% likely, a model tossed into the air.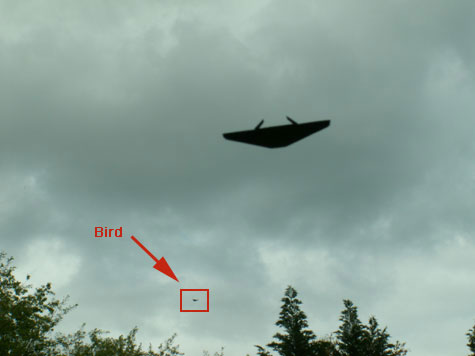 Sherlock writes:
There are some aspects of the report that make me skeptical, however. One is that I know I have seen a model or photo of a hypothetical triangular craft that has exactly this configuration: black equilateral triangle, blunted / drooped nose and wingtips, inward-canted control surfaces mounted on the upper rear deck, presumably to hide them from radar. Anyone remember seeing that photo? The other thing is that the third photo was suddenly "recovered" from the camera several days after the first two were published. It alone shows the "ruddervators", but they were not mentioned as having been seen before by the witness. As you can see from the photo, they are pretty hard to miss.
The scale looks way wrong, and it's very suspicious the plane just happens to be entirely silhouetted, which helps a faker by obliterating details that might give the game away.
And oh yeah, given that it comes from a UFO-spotter's website, more dubious still.
I have no idea why I'm putting this up. I guess it's just that I want to believe.
Here's an artist's conception of the Aurora, mocked up for a flight simulator. Maybe this is the "photo" Sherlock meant.
Maybe they just snapped a pic of this guy.

posted by Ace at
11:33 AM
|
Access Comments