« Nancy Pelosi Quotes from Stuff the Bible Says, 3rd Edition, Revised
|
Main
|
Obama: I Solemnly Vow I'll Withdraw From Iraq In 16 Months
Obama's Advisors: Um, Ignore What He Says, That's Not Going to Happen »
April 24, 2008
Jagoff Who Attacked Girl in Wheelchair a Truther
Surprised? Nah, neither am I.
German Talis, AKA "Gary", is a member of a group called "We Are Change", which is a 9/11 Truther group. The group has posted a video from the event, which doesn't show the attack, but does show a really pathetic women giving her account of the events. Oddly enough, she doesn't mention at all how "Gary" beat on a handicapped 18 year-old in a wheelchair. Of course her description of the events is correct and those of the girl's father, mother, and the police who arrested German Talis isn't.
I visited the website courtesy of a link from our newest troll, Josh. Everyone take a moment to
give your regards to Josh
, by the way.
The website, We Are Change, is basically a site full of YouTube videos of group members "confronting" (i.e. screaming in spittle-flecked, incomprehensible rage at) political figures. The guy shouting at Laura and Jenna Bush was one of their agents, conducting a "Street Action."
Two things stood out on their website. This is the first: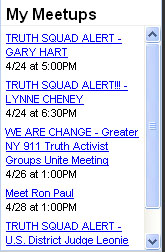 Boy, that Paul. He's like the Pig Pen of crazy.
Here's the second: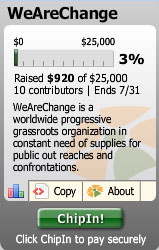 Their fund-raising prowess makes their group's name just so wonderfully ironic, doesn't it?

posted by Slublog at
03:24 PM
|
Access Comments