« Hoaxer Who Falsely Claimed Abuse at Texas FLDS Compound Is Also a Pledged Delegate for Barack Obama!
|
Main
|
You Know Who Else Doesn't Like The Nutroots? Hillary. »
April 19, 2008
April 19, 1995
This morning, at 9:02 CDT, people in Oklahoma City paused to remember the victims of this day, thirteen years ago.
Which is a good and fine thing to do.
One hundred and sixty eight people. 19 of them were children in a day care center.
Horror. And heartache.
This photograph kinda captured it for all of us, I think.
UPDATE: Commenter Carl Hungus asks that we seek God's blessings upon his former platoon commander, Captain Randolph A. Guzman, USMC.
May God grant him eternal rest, and for his family comfort from their loss.
(as a moron co-blogger, I know not everyone shares a prayer. But I do know you regs are of goodwill and kindness, which is awesome. And in that you all share in Carl's request).
Also commenter Joseph reminds us to remember the rescue workers and all Oklahomans who responded that day, and who still carry the painful scars from it.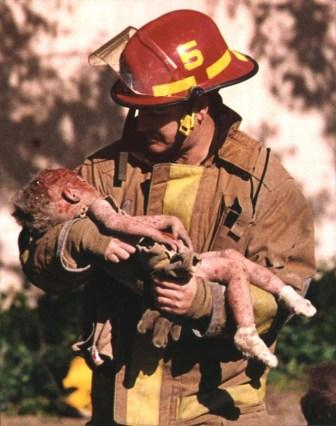 I cannot imagine the pain this young man endured, carrying this child. Who was gone.
I have a friend, here in Texas, who lost her parents in this evil. The unfolding story for them was kind of confusing. For several days after this horrible attack they were not able to contact their parents. They did not know why.
Her sibling went to their home, and was able to surmise from the papers left in the open that they had gone the to Alfred P. Murrah building, that day, to address some issues regarding their social security benefits.

I still can't find the words. It's important, very important, to commemorate this day. To respect those who were lost, and the loved ones who still live with the pain of it.
I don't know how to do that, not well enough. I wish I did. I do wish them peace, and comfort.

posted by Dave In Texas at
05:11 PM
|
Access Comments