« Heart-Warming: Man Comes Univinted to Memorial Service, Spreads Mirth, Irreverence
|
Main
|
Cool-Ass Albino Alligator »
April 04, 2008
ABSOLUT-LY Stupid
You've got to wonder what those filthy snow-humping Scandis the Absolut vodka company was thinking with this ad.
The billboard and press campaign, created by advertising agency Teran\TBWA and now running in Mexico, is a colorful map depicting what the Americas might look like in an "Absolut" -- i.e., perfect -- world.

The U.S.-Mexico border lies where it was before the Mexican-American war of 1848 when California, as we now know it, was Mexican territory and known as Alta California.

Following the war, the Treaty of Guadalupe Hidalgo saw the Mexican territories of Alta California and Santa Fé de Nuevo México ceded to the United States to become modern-day California, Texas, New Mexico, Utah, Colorado and Arizona.

The campaign taps into the national pride of Mexicans, according to Favio Ucedo, creative director of leading Latino advertising agency Grupo Gallegos in the U.S.
I'm sure it does tap into national pride. But at what expense? As commenter making absurd bitey faces says in a thread below "The issue is whether it is right to obliterate a country in order to increase marketing in another?" A marketing campaign based on national pride doesn't have to irritate the sensibilities of those in another large, alcohol-consuming country. The company has since
"apologized" for the ad
.
The In An Absolut World advertising campaign invites consumers to visualize a world that appeals to them -- one they feel may be more idealized or one that may be a bit "fantastic." As such, the campaign will elicit varying opinions and points of view. We have a variety of executions running in countries worldwide, and each is germane to that country and that population.
Really? Okay, then. I took the liberty of creating an ad for you. I'm sure your Russian market will
love
it.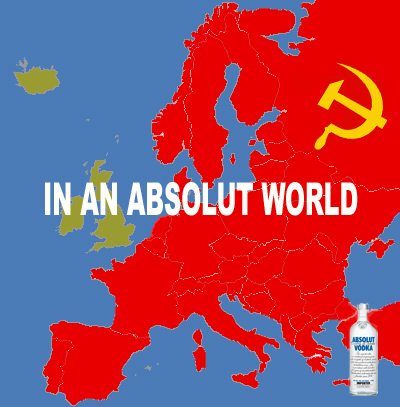 Vladimir Putin just wet himself with joy.
I think it has real promise. Sure, it's a bit "fantastic," but hey, it reflects a Europe that many Russians feel would be more ideal.
Update - ExUrbanKevin is evil enough to imagine a *shudder* Scandi-centric Europe.
Just Because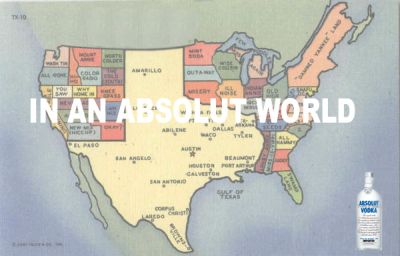 posted by Slublog at
01:34 PM
|
Access Comments