« A Hopeful Analysis of the Sadrist Uprising in Basra
|
Main
|
Duke Continues Digging: Asks Judge To Shut Down Plaintiff's Website Recapituating Facts -- and Slanders -- of the Case »
March 28, 2008
Proof of Hillary's Experience in Dealing With Foreign Regimes!: Saddam Agent Claims Hillary Meeting, "Very Receptive" Stance on Easing Embargo Which Was, Supposedly, "Containing" Hussein
Experience you just can't match.
Although, let's face it, Obama hardly needs real-world experience in appeasement. The kid seems a natural at it to me. Nothing but upside.
When it's too dangerous politically explosive for the President,
send in the First Lady
A Michigan man facing federal criminal charges of illegally working for Saddam Hussein's Iraqi Intelligence Service says he met with Hillary Clinton at the White House in May 1996.

In a 1997 interview with this reporter, Muthanna Hanooti said that at the meeting, Mrs. Clinton was "very receptive" to his request for an easing of the American sanctions on Iraq that were in place at the time. He said Mrs. Clinton "passed a message to the State Department" about the need to implement the oil-for-food deal, which was intended to allow Saddam to sell billions of dollars' worth of oil to pay for food for Iraqi citizens.

Back in 1997, a spokesman for the first lady referred inquiries about the meeting to the National Security Council. At the time, a spokesman for the National Security Council, Eric Rubin, responded by saying that President Clinton, not the first lady, sets foreign policy.

Asked whether Senator Clinton recalls the meeting or whether the presidential campaign had any further comment on the meeting in light of Mr. Hanooti's indictment, the Clinton presidential campaign yesterday offered no formal response.
...


Mrs. Clinton and her defenders may claim that no one could have known in 1996 that Mr. Hanooti would become an agent of Saddam Hussein, engaged in what a grand jury and federal prosecutors say was a criminal conspiracy. The indictment charges that the conspiracy began "in or about 1999." Mr. Hanooti has pleaded not guilty.

But to reporters on the foreign policy beat in Washington at the time and to those active in the Iraqi opposition to Saddam, it was clear whose agenda was being advanced. The news article in 1997, published in the Forward, that described Mrs. Clinton's involvement with Mr. Hanooti began: "The American-led blockade of Iraq is crumbling, following an intensive, domestic lobbying effort that has involved Rep. David Bonior and Senator Abraham — and, according to some sources, Hillary Rodham Clinton."
Experience you hostile foreign regimes can count on.
Thanks to CJ.
Of Course He Was There: A Slushop below.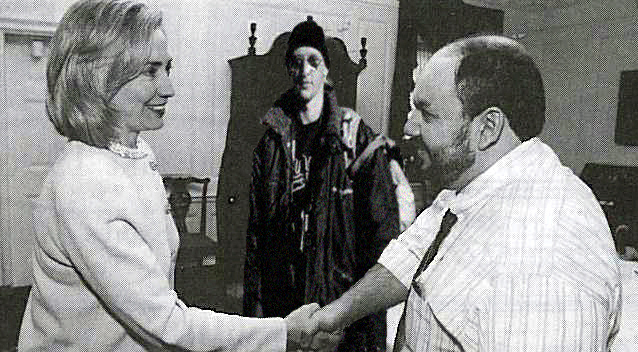 It's like the blues; if you don't get it, you never will.
Okay, well this explains it, and here are some parodies, and here are some more.
It's old.

posted by Ace at
01:52 PM
|
Access Comments