« Roger Simon (The Other One): "Obama Won Over His Base... the American Media"
|
Main
|
Hillary Clinton Lied-Who Could Have Seen This Coming? »
March 24, 2008
Global Warming Appears Nonexistent; Scientists Baffled By Mysterious Disagreement of Real Empirical Evidence with their Crazy-Awesome Computer Models
Flat Earth in the Balance. With its infinitely thick atmosphere, by the way.
Duffy asked Marohasy: "Is the Earth still warming?"

She replied: "No, actually, there has been cooling, if you take 1998 as your point of reference. If you take 2002 as your point of reference, then temperatures have plateaued. This is certainly not what you'd expect if carbon dioxide is driving temperature because carbon dioxide levels have been increasing but temperatures have actually been coming down over the last 10 years."

Duffy: "Is this a matter of any controversy?"

Marohasy: "Actually, no. The head of the IPCC (Intergovernmental Panel on Climate Change) has actually acknowledged it. He talks about the apparent plateau in temperatures so far this century. So he recognises that in this century, over the past eight years, temperatures have plateaued ... This is not what you'd expect, as I said, because if carbon dioxide is driving temperature then you'd expect that, given carbon dioxide levels have been continuing to increase, temperatures should be going up ... So (it's) very unexpected, not something that's being discussed. It should be being discussed, though, because it's very significant."

Duffy: "It's not only that it's not discussed. We never hear it, do we? Whenever there's any sort of weather event that can be linked into the global warming orthodoxy, it's put on the front page. But a fact like that, which is that global warming stopped a decade ago, is virtually never reported, which is extraordinary."

Duffy then turned to the question of how the proponents of the greenhouse gas hypothesis deal with data that doesn't support their case. "People like Kevin Rudd and Ross Garnaut are speaking as though the Earth is still warming at an alarming rate, but what is the argument from the other side? What would people associated with the IPCC say to explain the (temperature) dip?"

Marohasy: "Well, the head of the IPCC has suggested natural factors are compensating for the increasing carbon dioxide levels and I guess, to some extent, that's what sceptics have been saying for some time: that, yes, carbon dioxide will give you some warming but there are a whole lot of other factors that may compensate or that may augment the warming from elevated levels of carbon dioxide.

"There's been a lot of talk about the impact of the sun and that maybe we're going to go through or are entering a period of less intense solar activity and this could be contributing to the current cooling."
Fair use requires I stop right there, but you must click on to read the whole thing. The Aqua readings are discussed, as well as the apparent experimentally-derived suggestion -- contrary to all those Awesomeaciously Awesome Computer Models' core assumptions -- that the earth's atmosphere reacts to warming mostly by negative feedback, rather than runaway positive feedback. For example, models suggest that more warmth = more water vapor in the atmosphere = more trapped heat. In fact, actual empirical evidence suggests more warmth = more water vapor in the atmosphere = more clouds reflecting away incoming sunlight and thus reducing overall temperatures back down to the starting point.
As global warming skeptics have long contended was a likely outcome of increased warmth. A possibility generally ignored by global warming alarmists for two reasons:
1) it screws up their Doomsday Predictions
and
2) cloud behavior is little understood and hard to model mathematically and thus the super-awesome computer models run better with easier math if this factor is simply omitted.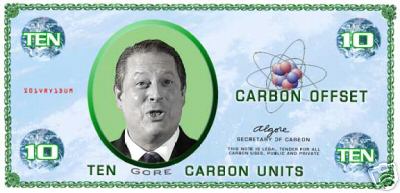 This isn't about science. It's about theology. As G.K. Chesterton wrote (referenced at the end of that great Obama video I keep promoting), "When people stop believing in God, they don't believe in nothing -- they believe in anything."
The irrational -- or, to be fair to the religious, let us say arational -- impulse to read the Universe as fundamentally ordered on not just a physical but moral level remains in godless liberals. They simply don't believe it's God imposing a moral order through His laws. Instead, they imagine that the cold impersonal forces of a godless Universe nevertheless somehow conspire together to impose a moral order.
Where there is transgression -- greed, industry, wealthy, pollution -- there must still be a punishment, but this punishment is not imposed by God but instead by the strangely-anthropomorphic and God-ish natural forces of the Universe which will, we're informed, lay waste to our cities and cause the seas to boil and the skies to darken as if sackcloth unless we get right with God Gaia immediately.
The concepts of -- and desire for -- karma and higher justice and divine retribution are present even in disbelievers (such as myself). We can't shake it. If someone sins, they ought to not profit from that sin, but instead by smote for it. Removing God from the equation doesn't change that. Progressives simply imagine a God-substitute -- Global Warming, ever watchful and ever vengeful, keeping a record of the Righteous and the Sinful in its Great big Book of Carbon Credits and Demerits -- rewarding the faithful and slaughtering the nonbelievers.
But what if -- just hear me out on this a second -- the Universe could actually give fuck-all about our carbon emissions? What if, horror of horrors, carbon dioxide (The Invisible Killer), the inevitable byproduct of industry and production and heating and farming and all those sinful, whorish human endeavors we engage in to keep ourselves alive and have a somewhat decent time while doing so, just wasn't that powerful a greenhouse gas at all?
You know-- what if it were one of the weakest greenhouse gases there is? As it, you know, actually in fact is?
What happens if there's no Natural-Forces God-Substitute at all to step in and punish us for living our happy, unconcerned, chubby and materialistic lives with all of our blithe production of carbon dioxide?
Can the progressive mind even contemplate such a disordered, amoral Universe?
The Reality-Based Community of the Community-Based Reality frequently pretends to be among "the brave" capable of confronting such a thing, but it always seems like they have some or other Liberal Jehovah to fall back upon to nevertheless make sure everyone gets rewarded or punished according to his just desserts.
All this nonsense is just a cri du coeur over the greatest sin imaginable to "progressives:" accursed materialism, and the related guilt over privileged Westerners like themselves "using a disproportionately large share of the world's precious natural resources." As we've substantially reduced most of the our genuine pollutants without actually paying much of price for our materialism (that is, without wrecking our economy and all becoming sustenance farmers like all those noble third worlders who have so much wisdom and live so close to the land, at least until they die in their early forties), we had to invent a new pollutant that we couldn't possibly reduce without destroying the Western way of life. This time the new sin would not involve nitrous oxide or sulfur or one of the pollutants we could more or less painlessly eliminate without giving up our wasteful, materialistic shallow lifestyles.
This time, the "pollutant" would be impossible to eliminate without eliminating ourselves, as this "pollutant" is a necessary and unavoidable byproduct of the simple act of burning wood in a fireplace.
This time, there would be no wiggle room: If we didn't do as they wished ecocide would result, and God-Gaia would show no mercy for our transgressions.
And so the bleat and bleat on about this, but I don't notice any of them throwing away their iPods or canceling their airflights to the Burning Man festival. Or, indeed, replacing the Burning Man with an Earth-Friendly Purely-Symbolic Burning Man to reduce carbon emissions.
But they're all very very concerned about this coming Ecocalypse, the armies of carbon-based death forms which will scour the face of the earth.
And like the most hypocritical priest on the face of the doomed planet, they're very determined that you make your souls pure before they'll even entertain the undertaking the painful process of purification themselves.
Thanks to dri for the graphic.

posted by Ace at
02:36 PM
|
Access Comments