« BSG News
|
Main
|
NCAA Fantasy Bracket Pool-Last Call »
March 20, 2008
The Return of Jesse MacBeth (?)
Note well the question mark. As they say, no one on the internet knows if you're a dog, or even a basic-training wash-out branded "unfit" who lied about being an Army Ranger and then lied further about his unit committing atrocities in Iraq as standard operating procedure, which of course got him glowing attention from the anti-war left, who publicized his anti-military slurs like the good patriots they are, and then further scammed the Veterans Administration out of benefits with a fake military ID and then was sent to prison for use of a forged document.
So this isn't necessarily Jesse MacBeth. It is nevertheless someone purporting to be Jesse MacBeth, and writing in the sub-retarded style one would expect of him. I guess I'm guided here by the words of Malone (Sean Connery) in David Mamet's Untouchables script: "Who would claim to be that, who was not?"
What does he have to say for himself? Well, it's pretty surprising, really. MacBeth -- or rather "MacBeth," for now -- takes full responsibility for his self-serving deceits and his vicious libels against men he served with in Iraq... or rather would have served with in Iraq, had he been able to hack the Army for more than 44 days. He is utterly apologetic, forthright, and genuinely sorry for the pain he caused real soldiers.
Psych. Shyah, right. MacBeth -- or, "MacBeth" -- is up to the same old MacBeth tricks, whoring for attention, wallowing in self-pity, and telling further lies about the military.
I'm adding paragraph breaks just to make better sense of this dog's breakfast of psychosis and hatred. The whole thing is written in one big jumble.
first off let me say i had no ideah it would get this big i had no ideah it would become internation and that was not my intention.

i simply wanted to get back at the army for the way they treated me in basic training.

basic is hard but for me it was even harder. i dont exspect any of you to believe any of this because my credabilty is already shot but here is the truth. take it are leave it.

iam muslim and have been most of my life. my family was muslim. i grew up in saudi arabia for the first seven years of my life. i joined the army an american muslim proud of my country and wanting to make a difference i knew that i could be an asset to operation in iraq because iam muslim i speak arabic, i can read it and write it, and i know the culture. i was also homeless at that point in my life.

i joined the army a proud man.

but it seemed the army wasent so proud to have me. the first week of basic everything went ok besides being smoked and drilled to exhaustion there were no out of orinary issues. intil during the secound one of my drill dgt (ds martin) appraoched me in the training bay in front of all the other iet soldiers in my platoon took the quran off my bunk spit in it and threw it across the room yelling "muslims dont belong in my army" and madde me crawl in his words" like the muslim dog i was" to get my holy book.

i was upset but again i wanted so bad to be part of something. all my life i was eigther in grouphomes homeless are in jail. i wanted to change that and this was my chance so i took the the racial slurs and religiouse slurs know that it wouold all end in 7 more weeks.

but it only got worse during the 3 week of basic in the few hrs that we get to sleep i was pulled down from my bunk by my drill sgt. i was on the top bunk so the fall took the wind from me. he a and a couple of other iet soldiers beat me badly strip my cloths from me and tied me to the poll naked in the training bay.

for the next 2 days i was tied there naked. pages of my quran were ripped out and shoved down my throat. bacon was shoved down my thrat. cold water was dumped on me. i was called hajji, sand 'n-word', and several other slurs. i was repeatedly punched kicked and spit on while i was tied i did not sleep for the days i was tied to the poll and i had to urniated on myself. i had open wounds and cuts on my face and all over mybody the only nourishment i got were the words of allah.

that was enough to get me through it.

on the mourning of the third day i was rleased told to shower and clean the bay. i still dident know why they singled me out. i was on there side a black muslim american. trying to help and make a difference. but to them i was just a muslim i was just the enemy. i was hurt and scared and i began to hate them for the things they did to me.

the drill sgt knew i was not gonna keep quite about what happen so he threatened me he said that if i said anything he would kill me and make it look like an accident on the feild.

at the point in my life i dident care anymore what he did to me.

i went to the chaplin and told him what happened. he dident belive me despite how beaten and battered my body was despite showing him my ripped and torn quran. i wasnt to the battilion comander and he braught in the drill sgt martin. i was afraid of him afriad of all of them. he dident belive me eigther his words were. "why shoul;d i believe you a pvt over a mant hat has 17yrs in the army and no blemish on his record" and i was sent away after drill sgt martin called me a liar several times.

later that night he stood me infrom of all the training platoons on sandhill and told them iam the enemy iam the reason why we are fighting my people were responable for 911
Strong words. Strong, badly misspelled words.
I really liked at the end how professional soldiers stood him up in front of the assembled platoons and said he was the real enemy they were fighting since 9/11. That just rings true to me, you know? It has that texture of reality and versimilitude that you usually don't find outside of Penthouse Forum.
I'm glad I got this scoop before Iraq Veterans Against the War could pounce on it. They're just queer for Jesse's True Two-Fisted Tales of Atrocities and Imperialism.
It seems rather absurd to even bothering asking questions of this luridly misspelled account, however: If he wanted to "get back" at those who abused him in basic training, why lie about being in Iraq and then lie about stuff other soldiers did? Here's an idea -- to get back at the soldiers who abused you, tell the true story of your genuine abuse at the hands of the actual abusers.
Nah, seems too complex. Yeah he was right the first time-- go up with the made-up shit that's easily disproven.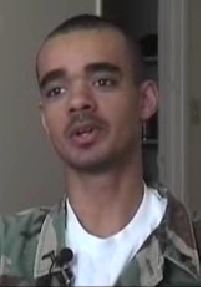 "And then we forced the children into a ditch,
and then shot them all with ich luge bullets...

"And then a beautiful, beautiful unicorn with magical
powers and golden hooves befriended me, for he
said I alone in my company was Pure and True.
And he told me his name was Shaenathir,
which means 'Dawn Racer' in the native tongue
of the Faeries, or Sidhe, as they call themselves.

"And then he asked if he could blow me,
on a 'cause of I'm so hot.
And I said, Sure. Why not.

"And now we're happily married.
I call my gay sex unicorn Mabel.
I pretend he's a girl,
because otherwise people might talk."
Ummm... Jesse MacBeth Creative Writing Contest?
Thanks to papa.


posted by Ace at
01:06 AM
|
Access Comments