« Another Black Preacher: Obama Is a "Mack Daddy" Who Pimps Out Women Both Black and White
|
Main
|
Florida Dems Abandon Mail-In Revote Option »
March 17, 2008
YOUTUBE DISAPPEARING WRIGHT VIDEOS AS FAST AS THEY'RE POSTED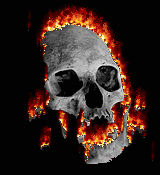 It's not like this an important issue or anything.
Too Quick To Light the Skull? AdamtheMad says I'm jumping to conclusions:
Uh, the simplest answer is that Trinity has removed the videos. No conspiracy necessary. I'd wait for confirmation before going all Noggin' McFlamey.
True... in which case YouTube is blameless, as I think the original poster can always remove a video he posted.
However, that means that this Church is covering up its bad behavior.
It could also be that other people who just dug the mad ravings of Crazy Uncle Jerry posted them, but now they realize it's hurting the team, so they're all removing their old postings.
Adam the Mad's right; too quick for the flaming skull.
But it's already lit. What am I gonna do? Can't put it out now.