« David Mamet: Why I Rejected "Brain Dead Liberalism" and Am Now a Conservative Something So Horrible I Dare Not Give It a Name
|
Main
|
Detroit Mayor Kwame Kilpatrick: Okay, So Maybe I Might Have Killed a Stripper and/or Covered It Up. On the Other Hand, I'm Claiming a Lot of People are Calling Me"Nigger." So, Honestly, Aren't We Square On Those Accounts? »
March 12, 2008
Spitzer Resigns: NY's Short Statewide Nightmare Is Almost Over
Effective Monday, March 17th. The delay was requested by the incoming Governor to ensure an orderly transition.
His wife was with him and he spoke several times of 'private failings' not about doing high class hookers. I wonder if people he prosecuted for similar 'failings' would have liked to have had the chance to make that argument.
On FNC, Jeanine Piero, who lost to Spitzer in a race to become NY Attorney General identified one of the aides in the room as Ted Wells. Wells is a high powered lawyer and her thought is his presence indicates no deal is in place with DoJ and that Spitzer may have some big legal problems in his future. (Thanks to Kid from Brooklyn for the correction)
Who benefits from this? Aside from the remnants of NY's Republican Party, Barrack Obama gets a small bump. Spitzer, as Governor of NY is a super delegate and is committed to Hillary. Once the resignation becomes effective, that's one less vote for her.
Update: "Kristen" revealed?
Update [ace]: Definitely click that link, but light content warning.
Now we're getting closer to $4300.
She, too, is pixelated, or else was seriously goobernatorialized.
Oddly enough, she does in fact look like the super-luxe call girl played by Rachel Ward in Sharkey's Machine.
Always trust content from Burt Reynolds.
Always. Trust content. From Burt Reynolds.
Because in your heart you know Stoker Ace and Six-Pack secretly kicked ass.
Awful [ace]: The Spitzer Scandal swallows its next victim: Kirsten the high-price call-girl tearfully resigns, citing a desire to spend time with other women's husbands.
Thanks to RobG.
[DrewM] Of course, no moment as momentous as this can pass without a SluShop: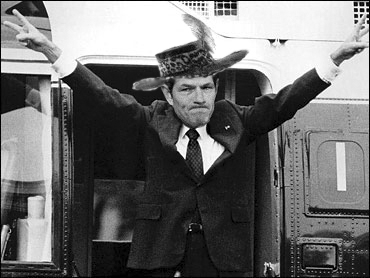 posted by DrewM. at
11:48 AM
|
Access Comments