« Guitar Heroes in Iraq
|
Main
|
Guess! That! Party!: The Lightning Round »
March 10, 2008
Surprise! Left Wing Bloggers Hypocritical on Vitter, Spitzer; Glenn Greenwald Castigates David Vitter, But Cobloggers Rick Ellensberg and Thomas Ellers Excuse Spitzer
True enough, I guess I have disagreements with my own cobloggers.
But on something like this, I really think that Glenn Greenwald, Rick Ellensberg, and Thomas Ellers should synthesize their positions so their joint blog isn't so hopelessly schizophrenic.
Greenwald:
So, to recap: in Louisiana, Vitter carried on a year-long affair with a prostitute in 1999. Then he ran for the House as a hard-core social conservative family values candidate, parading around his wife and kids as props and leading the public crusade in defense of traditional marriage.

Then, in Washington, he became a client of Deborah Palfrey's. Then he announced that amending the Constitution to protect traditional marriage was the most important political priority the country faces. Rush Limbaugh, Fred Thompson and Newt Gingrich supported the same amendment.

As always, it is so striking how many Defenders of Traditional Marriage have a record in their own broken lives of shattered marriages, multiple wives and serial adultery
Ellensberg:
Regarding all of the breathless moralizing from all sides over the "reprehensible," outrageous crimes of Eliot Spitzer: are there actually many people left who care if an adult who isn't their spouse hires prostitutes? Are there really people left who think that doing so should be a crime, that adults who hire other consenting adults for sex should be convicted and go to prison?
Ellers:
Glenn Greenwald is the kindest, bravest, warmest, most wonderful human being I've ever known in my life.
You know what? Of all of Glenn Greenwald's cobloggers, I like Rick Ellensberg the best. He seems reasonable.
I think I might ask him to coblog over here.
I think he'll accept.
Anyone else up for that? Rick Ellensberg now posting under his own byline at AoSHQ?
Here's One Distinction... The Spitzer Scandal has a t-shirt.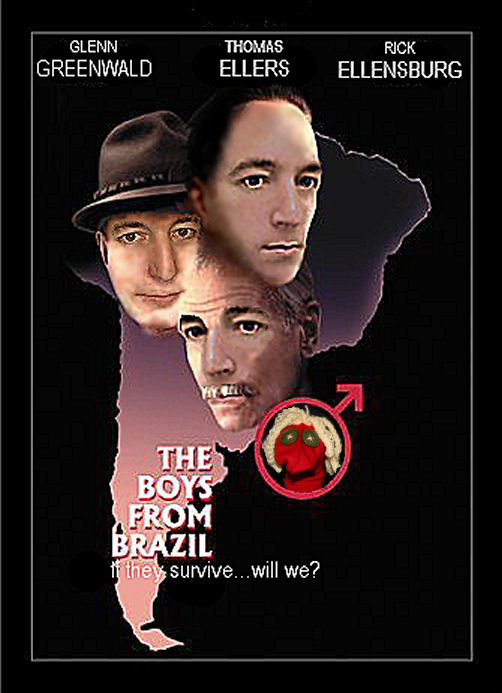 Incidentally... Greenwald claims there's endless "hand-wringing" and "breathless moralizing" over this case "from all sides."
I dunno. I didn't have much time to read other blogs today but I didn't see much of that.
Note he doesn't link anyone exhibiting this "hand-wringing" and "breathless moralizing" type behavior.
Could it be that Glenn Greenwald is just making shit up as usual? Casting himself as the sane voice of reason in a world gone mad?
Spitzer should go. He's the top law enforcement officer of his state, the superior officer of every cop in New York state, and he seems to be a chronic law-breaker. On top of that, he's a nasty self-righteous hypocrite.
But "hand-wringing" and "breathless moralizing"? Who out there is shocked that politicians sometimes cheat on their wives, and sometimes do so with hookers?
Note that this is Glenn Greenwald making this accusation of emotional upset among all but himself. And this is the second-most emotive, vituperative, irrational and hyperpartisan hack on the internet, after his soulmate Andrew Sullivan.
Gleen has forgotten more about "hand-wringing" and "breathless moralizing" than most of us will ever know.

posted by Ace at
10:23 PM
|
Access Comments