« Bad Landing: Left Lower Leg Amputated After Compound-Fracturing Wipe-Out
|
Main
|
The Payoff? Rezko Fixed It To Get Obama Staffers on Illinois Governor's Payroll »
March 06, 2008
Recruiting Station Bombing Analysis: "This was an act of domestic terrorism"
Bob Owens has pics and speculation. His conclusion is, I admit, rather obvious, but I suppose it's useful to have the reasoning out there. As well as the pics; this was not a powerful bomb.
Uncle Sam is, perhaps symbolically, quite undamaged by this effort.
Yes, it's some sort of Code Pink or anarchist extremist anti-war freak. (Anti-war, it seems, but not anti-bomb or anti-violence so much. Huh.)
The only question remains is: When did Karl Rove pay them to do this, and did he pay by a traceable check?
David Shuster just emailed to say that Karl Rove's indictment for this bombing is "imminent."
Well, actually he wrote "eminent," but that's the wrong word, but he's a fucking retard so I fixed that for him.

More: Gateway Pundit drops the interesting nugget that "three or four" people were seen running away from the blast.
So... possibly/probably not just a conveniently-lone nut.
And going back to the Captain Ed post at Hot Air:
Now the movement has decided to morph into domestic terrorism. Of course, the people responsible will claim that they bombed the office during the night to keep anyone from being hurt. That's exactly the same kind of rationalization that people like the Weather Underground and the SLA used at first, anyway — that terrorism was justified by their politics. In fact, a few like William Ayers and Bernadette Dohrn still claim that.
Yes... Barack Obama's bosom chums William Ayers and Bernadette Dohrn, he means.
This comes at a rather bad time for Obama. The left behaves as if domestic terrorism -- if done for acceptable chic leftist political reasons -- is just a some sort of charming "youthful indiscretion," like experimenting with pot or naked homoerotic fingerpainting with your college roommate steve_in_hb.
What? Huh? Who said that?
Just ignore that. It was some kind of weird technical glitch. In my mind.
Oh, they don't all quite go so far as to brand this all an excusable bit of youthful enthusiasm. While Margaret Cho praises the leftist terrorists Baader-Meinhof for their romantic charisma and chic fashion sense, most mouth the platitudes that domestic terrorism is bad, mmm kay?
But their actions say otherwise. Barack Obama still considers William Ayers perfectly respectable company.
It's like having high tea with James Byrd's dragging-murder killers.
"No Actual Damage:" John Ryan, or as I know him, Professor Science doubts there was any "actual damage" caused by this lighthearted bit of college prankery and hijinksery.
Apparently I'm his only source for news and he's incapable of clicking on less-well-known outlets such as CNN and the NYT.
So, for Professor Science's benefit, here's a pic of the damage-free bombsite: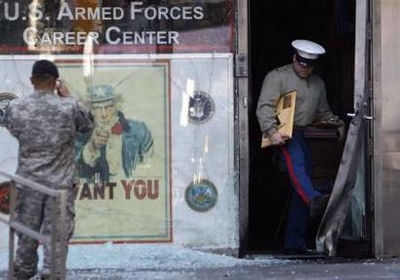 Pay no mind to the shattered glass or twisted, blackened door. They were always like that. Military recruiters like to put possible recruits into the mind of war even upon approaching their station. It's all part of the decor, Professor Science, like the window-displays at Barney's.
So, yes, Professor Science -- no "actual" damage. Just a "love bomb" that threw out a lot of peace-shrapnel and waves of concussive social justice.
You stupid. Fucking. Cock-sucking. Terrorist jock-sniffer symp.
Offense intended.
Thanks to Slublog for provoking this.

posted by Ace at
01:23 PM
|
Access Comments