« Rightwing Plot: Explosives Found In UC Davis Dorm
|
Main
|
Recruiting Station Bombing Analysis: "This was an act of domestic terrorism" »
March 06, 2008
Bad Landing: Left Lower Leg Amputated After Compound-Fracturing Wipe-Out
I don't know why I'm posting this. I guess just because I'm trying to make up for not posting in a couple of hours with sensationalism.
Graphic Violence/Macabre content warning. I can't see everything the announcers are seeing, but it looks bad anyway.
The caption:
Austrian skier Matthias Lanzinger crashes horribly at a World Cup race. According to WCSN.com his injuries were so bad that doctors were forced to amputate his lower left leg.
Thanks to Jennifer.
Might as well put this here, under the Macabre Content Warning.
A picture was recently publicized of Helen Keller and her teacher, Anne Sullivan. Slublog did this photoshop.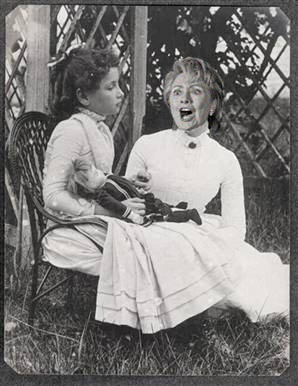 "Finding her voice"

posted by Ace at
12:49 PM
|
Access Comments