« Flashback Funny
|
Main
|
Belgrade Embassy Follow-up »
February 22, 2008
Hillary Says Goodbye, Announces Withdrawal... Kinda Sorta
PLUS: The Five Stages of Hillary Grieving!
Well, I gotta tell ya, I am sick to death of always being right.
Life holds no mysteries anymore for me.
The vagina, sure. But life? It's about as difficult to figure out as an Encyclopedia Brown crime. (Hint: Bugs Meaney may be up to some malfeasance.)
Yeah, I called it. The pivot. The realization the campaign was over, and that she would soldier on, but knowing now she could not win, would not come out with dagger and hammer. Looking beyond 2008 to 2012 or even 2016.
Always trust content from Ace.
Always. Trust content. From Ace.
Blogger of the Year, yo.
The Five Stages of Hillary Loss. As you probably know, people are said to go through five stages of grieving after a loss: Denial, Anger, Bargaining, Depression, and finally, Acceptance.
Stage One: Denial.
A top Hillary Clinton adviser on Saturday boldly predicted his candidate would lock down the nomination before the August convention by definitively winning over party insiders and officials known as superdelegates, claiming the number of state elections won by rival Barack Obama would be "irrelevant" to their decision.
Stage Two: Anger.
When talking to Clintonites in recent days, I've noticed that they've come to despise Obama. I suppose that may be natural in the final weeks of a competitive campaign when much is at stake. But these people don't need any prompting in private conversations to decry Obama as a dishonest poser. They're not spinning for strategic purposes. They truly believe it. And other Democrats in Washington report encountering the same when speaking with Clinton campaign people. "They really, really hate Obama," one Democratic operative unaffiliated with any campaign, tells me. "They can't stand him. They talk about him as if he's worse than Bush." What do they hate about him? After all, there aren't a lot of deep policy differences between the two, and he hasn't gone for the jugular during the campaign. "It's his presumptuousness," this operative says. "That he thinks he can deny her the nomination. Who is he to try to do that?" You mean, he's, uh, uppity? "Yes." A senior House Democratic aide notes, "The Clinton people are going nuts in how much they hate him. But the problem is their narrative has gone beyond the plausible."
Stage Three: Bargaining.
Hillary Clinton's presidential campaign intends to go after delegates whom Barack Obama has already won in the caucuses and primaries if she needs them to win the nomination.

This strategy was confirmed to me by a high-ranking Clinton official on Monday. And I am not talking about superdelegates, those 795 party big shots who are not pledged to anybody. I am talking about getting pledged delegates to switch sides.

What? Isn't that impossible? A pledged delegate is pledged to a particular candidate and cannot switch, right?

Wrong.

Pledged delegates are not really pledged at all, not even on the first ballot. This has been an open secret in the party for years, but it has never really mattered because there has almost always been a clear victor by the time the convention convened.

But not this time. This time, one candidate may enter the convention leading by just a few pledged delegates, and those delegates may find themselves being promised the sun, moon and stars to switch sides.
Stage Four: Depression.
And finally...
Stage Five: Acceptance.
Thanks to Liberrocky, JayC., and assorted morons for helping me track down those quotes, and thanks to Hot Air for the final salute from Hillary as she trundles on to Marine One for one last ride to San Clemente.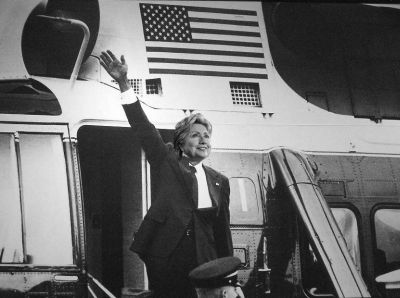 posted by Ace at
02:11 AM
|
Access Comments