« Another Waterboarding Hearing
|
Main
|
Edwards Drops Out »
January 30, 2008
Morning-After Motivation
Bryan at Hot Air has a good perspective on John McCain, the new front-runner and let's admit it, presumptive nominee. Not a perfect outcome, but one that I can slowly talk myself into grudgingly accepting as an alternative to Clinton. The campaign isn't over, and if nothing else, this campaign has made a lot of people angry enough about the process to start questioning why a small group of states should be allowed to winnow the field before most of us have had the chance to vote for our first choice.
Remember, it could have been worse.
Much worse.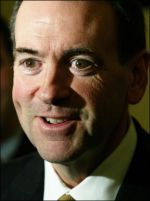 Of course, if McCain is stupid enough to pick this guy as his vice president, all bets are off.

posted by Slublog at
09:58 AM
|
Access Comments