« Fun At The Corner: TV Show Intros
|
Main
|
A Dating Service... For People Who Want To Have Conjugal Visits With Prisoners »
January 25, 2008
Breaking: Big Fire At Monte Carlo Casino In Vegas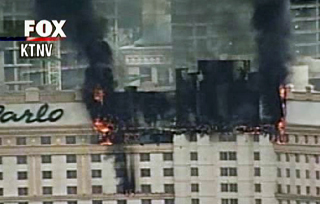 Hotels are being evacuated and The Strip is closed.
FNC says people are trapped on the roof.
Streaming video at Foxnews.com.
Fire is reported to be out of control and several of the top floors appear to be involved.
UPDATE: Watching the live feed on Fox, it looks like they are getting it under control. There are no more flames visible and the black smoke has turned white, which would seem to mean the fire department is getting water on it.
Also, FNC is now saying there is no one trapped on the roof at this point.

posted by DrewM. at
03:37 PM
|
Access Comments