« Return to the Mind of a Huckabee Supporter
|
Main
|
Mike Huckabee Vs. The "Shiite Republicans" »
January 10, 2008
Clarification On Ron Paul Bashing
First, the easy one: Some seem to think the "Leave Ron Paul Alone" video is real, from a Ron Paul supporter. It's not. It's a parody of Chris Crocker's "Leave Britney [Spears] Alone" video. So the video is making fun of a, um, certain streak of overenthusiasm among MoRons, but it's not actually an example of that overenthusiasm itself.
Apologies for the confusion. I thought that was obvious. But then, not everyone follows goofy internet crazes.
The next thing is more important. I called Ron Paul insane for suggesting that "New Money" (which will enslave you) might be marked with "chemical taggants" or "chemical alarms" which would alert authorities in airports to the presence of currency.
This particular idea is not, in fact, crazy. I woke up this morning (well, afternoon) and realized that sure, it is quite possible that at some point someone suggested the idea of so tagging currency with chemical markers so that airport scanners could detect large amounts of currency hidden, say, in the bottom of a suitcase. As an anti-money-laundering or currency-smuggling measure.
I'd suggest anyone who cares read this passage again and decide for himself whether Ron Paul's tone here actually suggests what I thought he was suggesting -- chemicals in your money tracking your moves -- without actually quite saying that.
In addition, the passage right before that talks about the Fed tracking each bill spent in the economy by (presumably) its serial numbers and thus the government, somehow, being able to track you over the course of "hundreds of transactions."
How on earth every bill could be scanned and inputted into federal currency-tracking databases at every point of sale at every 7-Eleven and every WaWa is beyond me. Also beyond me is how this would serve to track a person, rather than the bill itself, which is immediately transferred to someone else after every sale. Also really beyond me is why the government would bother setting up such a colossal SpyBuck program, or what nefarious plans they might have regarding tracing my purchases of coffee, cigarettes, and Val-U-Rite discount vodka.
Here are the choice bits from that part of the solicitation. Boldface and italics indicate my emphases.
You may ot have much time left.

Next year, or next month, the New Money could wipe you out -- destroy everything you've worked and saved for -- and leave your family destitute.

It could happen any time. And I don't mind telling you I'm scared. For myself, for my family, for my country.

We've seen a lot of financial tyrannies from Washington in this century. This one could take the cake. And popping out of the cake, with a bit Surprise!, will be an IRS agent with an AK-47.

Picture this: your feet are aching, your back is sore, and your patience ran out about two hours ago. How dare these bureaucrats treat you like this? How dare they make you wait in this line, this incredibly tedious line, to turn in your greenbacks? Then, when it's finally your turn, it's not so tedious after all.

An IRS agent with the dead eyes of a mako shark, asks -- with that chilling police politeness -- for your name, addres, Social Secrity number, and "explanation." Form his tone and body language, you expect the Miranda warning next.

...

The feds see us as rats in a maze. And they want to own the maze. And the New Money is a key part of this scheme.

I uncovered the New Money plans during my last term in the U.S. Congress, and I held the ugly new bills in my hands. I can tell you -- they made my skin crawl!

The totalitarian bills were tinted pink and and brown, and blighted with holograms, diffraction gratings, metal and plastic threads, and chemical alarms. It wasn't money for a free people. It was a portable inquisition, a paper "third-degree," to allow the feds to keep track of American cash, and American citizens.

As one federal scientist confirmed to me, these bills can be computer imprinted and read, to lay a paper trail hundreds of transactions long. Who uses them, when, and where. The taggants -- chemical alarms -- will set off federal cash-detection machines at airports and anyplace else they choose. And there are other swindles involved as well.

Thank goodness, a patriotic American within the Federal Reserve told me about this financial Manhattan Project. But this time, the government wants to drop the bomb on us.

To manufacture the New Money, the feds have built a colossal blockhouse in Ft. Worth, Texas, as ugly as it is evil. Designed in Stalin-style, guarded by KGB-level security, and full of tree-color printing presses and spy device embedders, it belongs in Moscow, not Texas.

Stage One of the New Money -- microprinting and a polyester thread -- was meant to lull us into sleep, before the knife fell. But the bureaucrat's scheme went awry when the old Bureau of Engraving and Printing plant in Washington, D.C., couldn't handle the new technology.

They've fixed that now, and Stage Two will chill your blood.
So there you go. I still think I'm 100% right -- this is all bugfuck crazy humbuggery. But I was wrong to focus on one aspect of "the New Money," the chemical taggants. I don't think that ever happened, but it's likely it was suggested and who knows, maybe one day the feds who see us as rats in a maze will do that.
But the whole piece is talking about money essentially spying on you. I focused on a detail when I should have just sucked it up and typed all this lunacy up for you.
Incidentally, near as I can tell, this article dates from the Bush the Elder presidency. The "New Money" Paul is talking about you know better as just plain "money" -- all these insidious anti-counterfeiting measures, the watermarks, polyesther threads, holograms, etc. are right now sitting in your wallet.
Anyone remember having to turn in their money at a federal Greenback Reclamation Center? Or were the new bills cycled into circulation through banks, as all bills are?
Anyone think their "New Money" has been spying on them for the past ten years?
Oh Yeah... You know where all this comes from, right?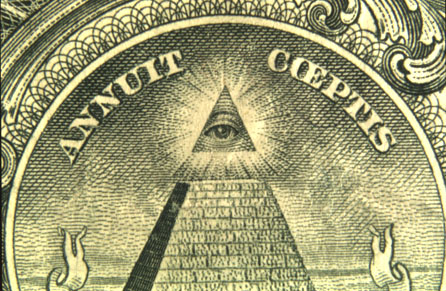 What further proof do you need? Wake up, White People. Wake up.
So It Was Foretold, So It Shall Be: Here witness a pair of powerful, connected Jews taking over a planet through their deceptions and machinations.
(Prime Directive = Protocols of the Elders of Zion.)
Thanks to steve_in_hb.

posted by Ace at
02:49 PM
|
Access Comments