« Achmed The Dead Terrorist's "Jingle Bombs"
|
Main
|
Christmas wishes for a Marine we all know »
December 25, 2007
My Fellow Americans, Our Long National Nightmare is Over
Boston's Big Dig, officially completed. It is to date the nation's most costly and complex highway project. Originally budgeted for $2.6 billion, it grew at a "better than Ted Kennedy" rate and swelled to almost $15 billion.
Marred by overruns, leaks, traffic jams and accidents, the worst of which took the life of Milena Del Valle (whose family just received a $6MM judgement against the epoxy manufacturer Power Fasteners), the construction phase started 16 years ago.
I saw the Zakim Bunker Hill bridge back in September. It's quite striking.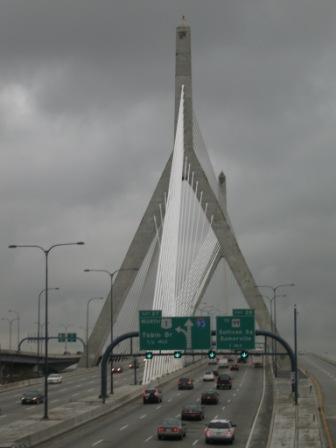 a Dave in Texas exclusive photo
Some of the pain was self-inflicted, including the worst leak in the I-93 tunnel in 2004, caused by failing to remove debris that was trapped in and weakened the concrete.
Regardless of how you feel about it, at least they're finished with it. That's better than 70% of the software projects governments undertake.
UPDATE: JavaJoe links shot of bridge under imminent attack.

posted by Dave In Texas at
02:55 PM
|
Access Comments