« British Spy: US Intelligence (Giggle) Community Either Got Played Or Is Attempting To Play The American Public
|
Main
|
The Man From Hope, 2.0 »
December 09, 2007
Another Massacre That Simply Did Not Happen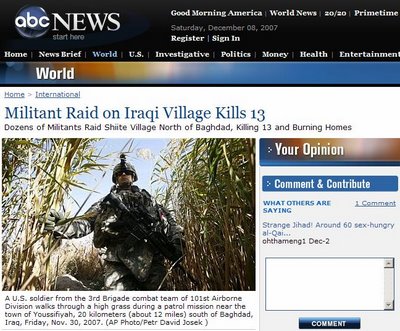 The MSM should be ashamed. How the hell do you "report" on a massacre of which, it turns out, there is absolutely no evidence whatsoever?
One doesn't have to even talk about political bias here. We're talking basic competency. How did these "reporters" file reports of villagers slaughtered in their sleep and houses burned to the ground when there is apparently no visible or witness evidence of any violence?
The U.S. military could not confirm Saturday's attack, saying American aircraft searched the area for several hours and found no evidence of the killings.
Incidentally, Dwelah, near Baquobah, is less than 100 miles from Baghdad, up a major highway.
If reporters won't make a two hour drive to confirm a "massacre," what the hell is the point of even basing them in the Green Zone at all?
Thanks to CJ.

posted by Ace at
05:16 PM
|
Access Comments