« Fred: I'm Not A Regular Churchgoer And I Don't Plan About Talking About My Faith Much
|
Main
|
AP: "Solid Jobs Report, Wage Growth In Nov." »
December 07, 2007
Surprise: Flyin' Imams Radical Islamist Firebrands
I have known three of the plaintiffs in the U.S. Airways suit for almost a decade. Soon after settling in Arizona in 1999, I became involved in the local Muslim community. Before moving to Scottsdale, I usually attended Friday congregational prayer services at the Islamic Community Center of Tempe, Arizona. Often, Ahmed Shqeirat, now the primary plaintiff, delivered sermons at the mosque where he has long been imam. I was struck by the political nature of his sermons. He repeatedly criticized both U.S. domestic and foreign policy and often exaggerated Muslim victimization. He advocated political unification of Muslims internationally and blamed the United States, Israel, and the West for perceived slights. He called for the political empowerment of Muslims in American society.

After hearing several sermons, I spoke and wrote to him to express my dismay at his emphasis of political over spiritual topics. He responded that "secularism is Godlessness" and asserted a right to "speak about political injustice." The concept of purely spiritual Islam and creation of an intellectual environment welcoming to all Muslims regardless of political persuasion was anathema to him.

To give one example of his abuse of pulpit, during a Friday sermon in April 2004, he displayed an image, which CAIR had distributed, of an American soldier in Iraq with two young Iraqi boys. In the photo, the soldier held a sign saying, "Lcpl Boudreaux killed my dad, then he knocked up my sister." Shqeirat neither made any attempt to verify the image's authenticity nor to determine, if real, whether it was representative. Nor, when he was asked, could he explain how such a display related to Islamic theology or spirituality. The goal of using faith identity to divide society highlights the incompatibility of Islamism with traditions of American culture and society.
Ah, the Bourdreaux sign affair. Remember?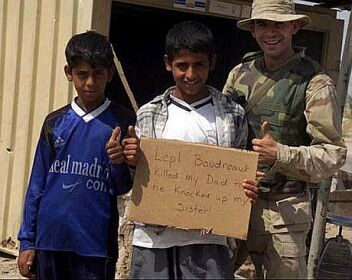 Fake as all get out. But it launched a wonderful series of parodies, just as obviously photoshopped as the original. Wish I could find them.

posted by Ace at
12:47 PM
|
Access Comments