« Posters Which Simply But Graphically Reveal The Bug-Fucking Dementia Of The Left
|
Main
|
Defeat Down Under »
November 24, 2007
That's What it Looks Like?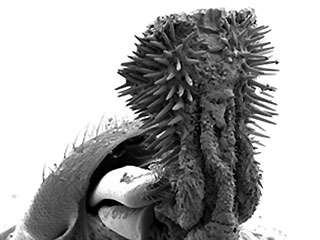 The Barbed Cock of Satan™ (artist's rendition)
Yeeouch.
Actually it's the spiny genitals of the male seed beetle. Apparently the design is intended to improve "anchoring" ability, which as we all know can be so important to that certain special someone.
It seems there's some sort of genital evolutionary contest that is escalating way out of control.
A number of these species have more than 100 spikes on male genitals, while others have none.

Arnqvist and his colleagues found that as male genitals became spikier and more harmful, females evolved tougher genitals to defend themselves.
Of course, the photo is very much enlarged (see what I did there?). Still, I'm gonna have a bad dream about this later, I just know it.
h/t Barry

posted by Dave In Texas at
11:15 AM
|
Access Comments