« Guide to the 2008 Presidential Campaign
|
Main
|
Ricardo Sanchez - new darling of the democrats »
November 22, 2007
Happy Thanksgiving!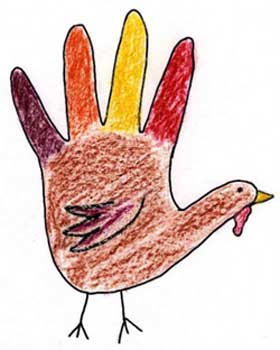 Well it seems late enough to make it official -- in case you haven't heard, tomorrow has been scheduled for this year's Thanksgiving.
Thank you all for coming here. I really appreciate the odd, somewhat demented camaraderie you provide me.
Quick Movie Reviews... under the fold.
I wanted to review these for a while but of course put it off. Now it's Thanksgiving, and a lot of you will be headed to the theaters, so I'll just do two quickies.
30 Days of Night. Three stars (somewhat graded on the curve for a horror flick). This vampire flick shamelessly rips off the frozen wasteland setting of The Thing and the zombie apocalypse premise of Dawn of the Dead, and if you're going to rip off two movies, those are pretty good ones to rip off.
The vampires here observe all my key rules of vampires. They are fast, strong, demonic forces of destruction and carnage. And ugly -- no European dissipated aristocratic wankers here. (Well, some look European, but badass.) On top of that they seem to all have learned how to speak the Dark Speech of Mordor at some comic book convention. They're not sexy, they're just vicious. And boorishly mannered, as they walk around the whole movie with their mouths, throats, and chests covered in the dried blood of their victims.
If you saw The Thing, you know the countdown: Kill the sled-dogs, sabotage the helicopter, cut all communications, cut the power. Then wipe out the outpost. A ghost-ship full of vampires (the Minerva?) shows up in the ice around the most northerly town in North America as it sees its last sunrise for 30 days. The humans now cut off entirely from the world, the vampires don't have to lure hitch-hikers and runaways into alleys. They just blitz the town and kill almost everyone in a fit of mayhem staining the snow bloody red.
A few weak points in plotting -- Why do the survivors have to leave the safe and well-stocked general store to get to the "utilidor"? Why have the vampires decided on this high-risk, high-visibility plan now? (I'm told the graphic novel gives an answer, and I guess it's easy enough to come up with your own bullshit explanation, but still, the film should offer why these vampires have decided to stop skulking and go for the shock-and-awe route.)
Where did Melissa George get that ridiculously tight and form-fitting parka that somehow manages to show off all of her curves, and why does she ditch it in favor of a hefty sack of a coat a half hour in?
Why did that guy just decide to suddenly sacrifice himself heroically? Was it just because the plot demanded it, or is he just the president of the Josh Hartnett Fan Club?
In general, people seemed way too willing -- eager, even -- to sacrifice themselves heroically in this movie. Come on. Not only is this unrealistic, but it detracts from the horror aspect if everyone is pretty gung-ho for the grave.
But those are nitpicks. Overall, the movie is smart, fun, very violent, and occasionally even scary. At least in that jolt/shock sort of way. It also has a great visual style that uses highly stylized CGI to positive effect, rather than just annoying the viewer. Probably because most of the CGI is where it belongs -- in the background, in the scene, not in foreground elements.
I saw this with steve in hb, and on the way home we tried to think of a better vampire movie. I couldn't easily think of one -- they don't make many good vampire movies -- and had to go all the way back to Lost Boys and Fright Night just to name some movies in its class. So, at the very least, this is the best vampire movie in 20+ years... though that's not really saying much.
Gone Baby Gone. Also three stars. Though I really hate to admit it, Ben Affleck does a decent job directing this movie (and co-writing the script from a detective novel by the guy who wrote Mystic River). I can't bring myself to praise him, so consider the absence of strong criticism to be... well, you know.
I will take some consolation in the fact that his brother Casey Affleck, starring as a penny-ante detective whose main line is finding people who've skipped out on credit card debt, may be about to become pretty famous, and probably more respected than Ben. So that's something, at least. I always sort of liked this actor. He's a blank; you can't tell if he's stupid or smart, if he's thinking furiously or has nothing on his mind, if he's vulnerable or predatory. Usually you'd call that "not acting at all, just sitting there looking like a wooden statute of, let's say, Ben Affleck," but Casey Affleck is more compelling as a blank. Something interesting seems to be going on inside his head, even if he doesn't bother signaling to the audience what the hell that might be.
He's not in the standard detective mode of big bruisers; he's short and slight, so he he can't bully thugs around like Marlowe or Spencer with threats and arm-twisting. Instead, he just... grabs 9mm compact out his back waistband and sticks it in people's faces. And then sometimes smashes them in the face with the gun. And then calls them "you fat fucking retard" in a Boston accent (re-tahhhhd).
A bit more realistic and gritty than Marlowe.
Michelle Monaghan plays a sort of thankless role -- she's sleeping with her partner Affleck, but beyond that we know almost nothing about her; despite being a co-star, I don't think she has more than 15 lines of dialogue in the movie -- but she's pretty good at just being a quiet presence. It doesn't hurt her cause that she's adorable.
Cutting the big reveal: The solution to the mystery here is dumb, contrived, and I'm sure done a dozen times before just in books by Andrew Vacchs alone. But almost all mysteries are like that; if you're interested in the destination, prepare for disappointment. The interest is supposed to be in the ride. I doubt that any savvy mystery fans won't figure all this out fairly early (and even before you've figured it out, you've got a good idea who's involved). But, again, it doesn't really matter. Detective movies aren't about the actual mystery; they're about pistol-whipping fat fuckin' retahhhds into submission.
Some critics have praised the difficult "moral dilemma" present at the film's end. It left me cold, because I didn't believe the situation that presented the dilemma. It's like on Star Trek: The Next Generation when they're having some stupid philosophical discussion over whether a Tachyonic Mist Beast has a soul or not, and you're like, "Who gives a fuck? It doesn't exist." Pretty much the Big Moral Quandry here is like that -- it might be interesting if a Tachyonic Mist Beast existed, but they don't, so why are you bothering me with this stupid shit?
Still, a good gritty detective procedural. And, more importantly, pretty fun. I was worried going that this would be some stately but insufferably ponderous and pretentious art-house product, just a vehicle for some scenery-chewing method acting and social commentary, but in fact it's just a well-acted straight-ahead detective movie with some light pretensions of A Bigger Message. But it doesn't let those pretensions weigh it down much.

posted by Ace at
12:24 AM
|
Access Comments