« Claim: Gonzo Car-Kitter Can Convert Big Sedans To Get 100 MPG, While Cutting Emissions 80% *and* Doubling Their Horsepower
|
Main
|
Rambos of Rapproachment: Diplomats Well-Nigh Refuse To Take Assigned Postings In Iraq »
October 31, 2007
Ron Rosenbaum Rumor About Bill Clinton?
First, the background. He said he hasn't heard of this rumor "in this form" before, meaning it's already out there.
This is already out there, of course.
Billionaire Belinda Stronach insists there is nothing true about the rumors she and former President Clinton are having an affair, adding that it's all a Republican plot.

The ultra-wealthy member of Canada's parliament, who switched from the Conservative to the Liberal party, told the Montreal Gazette that the rumors upset her and she doesn't know whether to laugh or cry about the global hullabaloo over her alleged role as Cinton's latest squeeze.

Echoing Sen. Hillary Rodham Clinton's famous allegation of a "vast right-wing conspiracy," Stronach told the Gazette she suspects the rumors have been spread by Republicans.

But it wasn't Republicans who reported last year that she was spotted all over New York with Clinton last year - it was the media.

New York Daily News columnist Ben Widdicombe told ExtraTV.com: "She's blonde, she's ambitious and she's in politics, but she's not Bill Clinton's wife. It's Belinda Stronach, his friend from Canada who's been visiting Bill in New York this week.

...


Wrote ExtraTV.com: "And Belinda is no stranger to the limelight either. She's divorced from Olympic champion speed skater Johan Olaf Lass and currently has romantic ties to another politician. Still, there have been rumors of a romance between Belinda and Bill since they met five years ago at a charity event."
So there's that. What could be the not "in this form" twist? Well, I hate to speculate (ahem) but it could be They're in love and Bill and Hillary plan on divorcing as soon as the elections are over.
It should also be noted Clinton has been linked to socialite Lisa Belzberg. Against this rumor: It seems to have been over for a while. In favor of this rumor: She's reportedly "busty."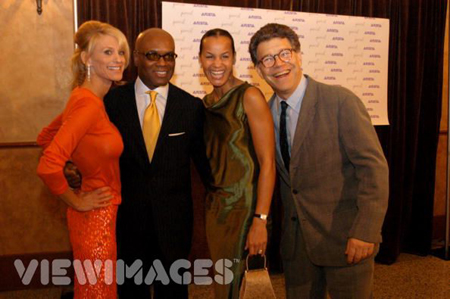 And so she is. Nice. And they look real, too. /sarcasm.
MTT, incidentally, says he knows -- as in knows-knows -- that the Belzberg fling is back on:
Again, it's Lisa Belzberg.

And yes, they did have a fling (or are still having it.)

I know this to be true.

Don't ask me how.

Except, a good friend of mine used to date her and he told me about Clinton a LONG time ago.

Just sayin'.
MTT, by the way, seems to be the sort of guy who could move in such circles, or at least have friends in such circles. He's also not a lunatic.
Rosenbaum seems to suggest it's not necessarily about a candidate herself, but about her "marriage:"
It raises all sorts of ethical questions. What about private sexual behavior is relevant? What about a marriage belongs in the coverage of a presidential campaign? Does it go to the judgment of the candidate in question? Didn't we all have a national nervous breakdown over these questions nearly a decade ago?
Further, he seems to be talking about someone poised to win:
And what about timing? They, meaning the DC elite media, must know if it comes out before the parties select their primary winners and eventual nominees, voters would have the ability to decide how important they felt it to the narrative of the candidate in question. Aren't they, in delaying and not letting the pieces fall where they potentially may, not refusing to act but acting in a different way—taking it upon themselves to decide the Presidential election by their silence?
A commenter, Jon, states he hears it's about Bill's affairs. And Rosenbaum seems to indicate that's exactly what it's about.
[Jon:] A few friends of mine belong to the media elite and they tell me that the sexual "scandal" involves Bill Clinton cheating on Hilary, with the ethical problems being:

1. Everyone already knows he is a cheater, and;

2. He is not the candidate.

It could be that the media would have run with this aleady if it were a Republican, but I think the ethical problems are valid.

[Ron Rosenbaum:] I'm glad you agree the ethical problems are valid. i've taken a position of not confirming or denying any of the guesses and I think afte this I'm just no longer going to post "guessing game" type comments.

I would like to take this opportunity--since I've been accused of being pro Clinton ("part of the Clinton smear machine' and anti Clinton (a "wingnut"), that I have endorsed Hillary for President, that I'm a liberal and that neither has anything to do with the ethical dilemmas I'm writing about.
He seems to say that those particular "ethical problems" are valid, and, by implication, they're the exact "ethical problems" he's fretting about.
What does any of this mean? Well, all I know is the last time Bill publicly humiliated Hillary she got a Senate seat out of it. I'm not sure if I'm more worried this will be buried, or that this will be printed.
But is this really that "juicy," as Rosenbaum claimed? I dunno. I hate the Clintons and I'm not sure I can manage to give a shit about it, even if I try real hard. The only thing that would make it somewhat juicy is if there is a secret understanding that they will divorce in January 2009, but I don't know that even that's so earth shattering. Isn't that pretty much what we all expected anyhow?
On the other hand... This is juicier.
From the Michael Musto gossip column linked in the above article:
As I recently said on MONICA CROWLEY's radio show, whisper campaigns are claiming that HILLARY CLINTON is GAYLE KING–ing her aide de camp, the glamorous HUMA ABEDIN, an Indian/Pakistani goddess from Kalamazoo, Michigan. In other words, Hillary may be putting Huma out there in the press and purposely making her more visible as a pre-emptive strike that amounts to her hiding in plain sight. This way, no Republican can later say, "Who is this gorgeous babe who spends so much intimate time with Hillary that the Observer called her Hill's 'body person'? Was GENNIFER FLOWERS's book right about Hillary's sexual taste?" And does either of this couple have the balls to bottom?

Of course that whole scenario can't possibly be true, since Bill and Hill have been so lovey-dovey lately for the cameras, and besides, whenever he's been serviced by an intern—or by anyone—he's clearly been thinking of his wife. (They're that close.) But suddenly, Huma—a sort of Muslim SALMA HAYEK—has that spread in Vogue and the accompanying write-up notes that she "oversees every minute of Senator Clinton's day." Every single minute? Even Gayle King takes a break now and then! (PS: If I called for comment, Hillary's camp would surely say, "Just because two powerful women are closer than sardines doesn't make them dykes." And that's so true. Look at MATT and BEN. But now that Crowley has dubbed me the head of Huma Resources, I'm going to pursue this story with every cojone I've got.)
That story is from August, so the timing makes sense, at least.
Then again, 1) gays think everyone is gay, 2) gossip columnists think everyone is gay, and 3) gay gossip columnists think even industrial robots are gay.
Gennifer Flowers claimed it was true:
"There's something you need to know. I've been hearing tales around town that Hillary is having another thing with a woman." I watched his face to see his reaction, and couldn't believe it when he burst out laughing. I was stunned! I asked him what was so funny. "Honey," he said, "she's probably eaten more pussy than I have."

Bill said he had known for a long time that Hillary was attracted to women, and it didn't really bother him anymore. His first clue came from her lack of enjoyment of sex with him. She didn't like to experiment and insisted on the missionary position and nothing else. Because she wasn't enjoying herself; neither was he. Sex with her became a duty; nothing more."
-- Gennifer Flowers, Passion and Betrayal, p.42]
Then again, that's quoting Bill Clinton. I'm sure he had a lot of excuses for cheating on his wife, including "she's a dyke," "she's a man," and "she died fourteen years ago, God bless her soul, Oh God, I miss her more every day that passes."
Oh The Huma-nity: This NY Observer article clears up absolutely none of the mystery surrounding Hillary's "glamorous" Gal Friday.
Hillary's Mystery Woman: Who is Huma?

Senator Clinton's closest aide, Ms. Abedin never sweats; Oscar de la Renta wants to dress her

...

Which gets at another facet of the cult of Huma: She's something of a mystery, even to the people who have worked in her proximity for years.

Very little is publicly known about her, which of course leaves plenty to talk about. And the rumors abound. According to various accounts from Huma acquaintances interviewed for this story: She's Lebanese, she's Jordanian, she's Iranian, she's 26, she's 36, she has two children, she lives with the Clintons.

"No one knows anything about her," said one political aide. "She's like Hillary's secret weapon."

...

"I don't really know much about her history," said Mr. [Oscar] de la Renta, "because Huma is not such a talkative girl."

Other political players with Clinton connections were just as effusive—and just as vague on the personal details.

...

Ms. Abedin recently bought an apartment in the vicinity of 12th and U streets in Washington, D.C. When she comes to New York, she stays with her sister, who has an apartment in Manhattan—not, as one popular rumor has it, in Chappaqua with the Clintons. She has no children and has never been married. She's single.

...
This is a particuarly damning quote:
According to a friend, her favorite designers are Mr. de la Renta, Catherine Malandrino, Charles Nolan and Prada. "And she has a weakness for Marc Jacobs bags," said the friend. "She is known for her bags."
Ouch! Hillary can't be happy with that reference.
...

A Special Category

...

"Huma is an example of why more people, particularly in Washington, need to understand the rest of the world, need to recognize what an asset it is to have cross-cultural experiences," wrote Queen Noor of Jordan in an e-mail. "She is loyal, intelligent, diplomatic, energetic and brings a broader understanding to the table—one that I wish there was more of in the world. It is this sensibility that has contributed to her being an enormous asset to Hillary in Washington and New York and now in this next endeavor, and I am proud of her."

And so, apparently, is the boss.
Eh.


posted by Ace at
05:41 PM
|
Access Comments