« Open Blog
|
Main
|
Shatner to J.J. Abrams: Don't Blame Me If Your Star Trek Movie Tanks »
October 27, 2007
Grand Guignol: What Is It, Exactly?
A lot of you might know. I didn't. I've read the term so many times to know basically it meant "a luridly horrific tableaux," or something along those lines. But what it referred to precisely I never knew, until I looked it up five minutes ago. As Halloween's coming, seems like it's worth a post.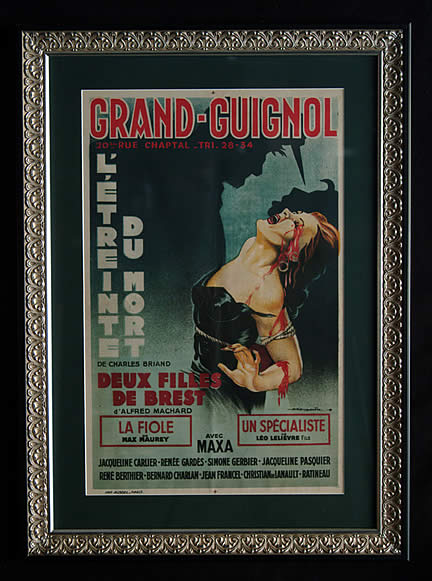 It was actually a theater (stage) in Paris that specialized in graphically violent, amoral, and often sick-minded horror plays from the 20's until the early 60's.
Le Théâtre du Grand-Guignol was founded in 1894 by Oscar Méténier, who planned it as a space for naturalist performance. With 293 seats, the theater was the smallest in Paris. The building was a former chapel, and the theatre's history showed in the boxes, which looked like confessionals, and in the angels over the orchestra.

The theater owed its name to Guignol, a traditional Lyonnaise puppet character, joining political commentary with the style of Punch and Judy.

The theatre's peak was between World War I and World War II when it was frequented by royalty and celebrities in evening dress.
And it was rather popular:
As used today, the term 'Grand Guignol' (pronounced Grahn Geen-yol') refers to any dramatic entertainment that deals with macabre subject matter and features "over-the-top" graphic violence. It is derived from Le Theatre du Grand Guignol, the name of the Parisian theatre that horrified audiences for over sixty years. The theatre was founded in 1897 by Oscar Metenier as an extension of the naturalist movement, which had been popularized by André Antoine's Theatre Libre. A typical evening at the Grand Guignol Theatre might consist of five or six short plays, ranging from suspenseful crime dramas to bawdy sex farces.

But the staple of the Grand Guignol repertoire was the horror play, which inevitably featured eye-gouging, throat-slashing, acid-throwing, or some other equally grisly climax. Over the years, and under the direction of several different managers, the Grand Guignol theatre flourished, becoming one of the most popular tourist attractions in Paris.
They shut down, it was said, because staged horrors couldn't compete with the real world horrors of Buchenwald.
Time Magazine noted the theater's post-WWII decline:
In its half-century at the blind end of a cobbled alley in Montmartre, le Theatre du Grand Guignol has become a synonym for blood-drenched horror on the stage. Until the war came along, its 293 seats were filled nightly with a faithful, shuddering clientele. Its finest hour came one night when a woman in the audience swooned at the sight of two harridans gouging out a girl's eyes in their madhouse cell; the management called for the house doctor, but he had passed out too.

... The war made horror trite and started emptying the Grand Guignol's seats.... No new twists in torture or tricks of realism – e.g., "blood" that coagulates as it cools – could lure the crowds back. Even worse, the sounds of skulls being crushed and bodies plopping into acid vats began drawing guffaws instead of gasps. Things got so bad that couples who took the curtained boxes in the rear of the house looked to themselves rather than to the stage for thrills.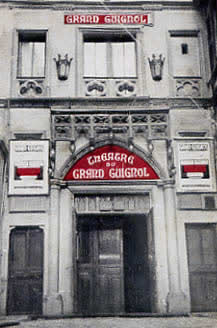 So I'm reading this thinking, Wow, that would make a good basic setting for a movie. Alas, it's already been done -- cursorily. In Interview with the Vampire, the "Theatre Des Vampires" seems to be the Grand-Guignol with a name-change, and with the inevitable twist that the gory stage murders are actually quite real.
Content warning for boobies and blood:
Still, that's just ten minutes of a movie, and not a full screenplay about this.
Related to this, I caught a trailer for a would-be move called Repo: The Genetic Opera. It's not actually a trailer of an already shot movie, but rather they only filmed the trailer, in order to drum up investors with it. (Blood Simple and Evil Dead did this too -- filmed the trailer before the actual movie.*)
Anyway, it's about, I guess, an "Organ Repossession Man" who takes back donated/modified organs from you if you don't keep your payments up. I doubt that this is going to induce anyone to want to see this, but it does seem, well "Grand Guignol" (or at least Grand Guignol mixed with Bertold Brecht), and since I finally know what the term means, what the hell. Macabre and violent content warning. Also, a Dan Aykrod "Bad Opera" Advisory. I'm not sure it's bad, per se, not having an appreciation for opera, but it certainly isn't mellifluous.
Kind of Jim Steinman and Meat Loaf meet Marilyn Manson and GWAR, I guess.
Oh... I guess the whole Rocky Horror deal was sort of a spoof of Grand Guignol, too. Though more a spoof of B-Movies.
* Cute trivia on that: The Cohen Brothers had been low-level assistant directors/flunkies on the Evil Dead movie. When they wanted to film the trailer for Blood Simple, they followed Sam Raimi's lead in shooting the trailer first -- and actually, I think Sam Raimi, his brother, and Bruce Campbell lent a hand with this, having used this sales technique already.
Bruce Campbell related this story, noting that no matter how big the Cohen Brothers became, he'll always think of them as the guys he ordered to get him coffee on the Evil Dead shoot.
Actually, now that I think of it, Spinal Tap also shot a "proof of concept" trailer/highlight reel from the movie they intended to actually film. It's on one of the later released Spinal Tap DVDs as a bonus feature. It's like 15 or 25 minutes of cheaply-filmed gags, many of which would later appear in the actual movie.
Kind of a cool way to make a movie, I think.
More Halloween Fun: From Cracked again, the Five Greatest Urban Legends That Actually Happened.
Mistaken for dead and buried alive? Yup. Not only did it happen, it used to happen distressingly frequently.

posted by Ace at
04:27 PM
|
Access Comments