« Madrid Bombing Terrorist Killed In Iraq By Heartbreak And Automatic Weapons Fire, But Mostly Automatic Weapons Fire
|
Main
|
Who You Gonna Call? Terrorist Busters! »
October 22, 2007
50%
Don't bother... it's a dreck piece that says Hillary is leading Obama 50% to 21%. Put out there for the knuckleheads. "Hillary! leads Barak by 50%" to whatever, it doesn't matter... the important number in the news today is "Hillary 50%".
It's so no one will associate this 50% number with Hillary!
On the same day. Wonder if that will work?
Probably.
It's a really old joke (really old, really lame) but it still makes me laugh.
I'll bet it's the zombies.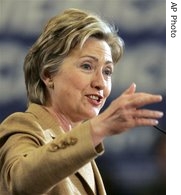 BRAAAAAAINS!!

posted by Dave In Texas at
10:16 PM
|
Access Comments