« WaPo: Al Qaeda In Iraq Reported Crippled
|
Main
|
Deficit Falls To Lowest Level In Five Years, NYT, WaPo, and LAT All Refuse To Report On It »
October 15, 2007
Terrorist Toady Robert Fisk: The CIA Bombed Flight 103 Over Lockerbie
Hot on the heals of joining the Twoofeh Movement, Fisk now decides the CIA itself blew up flight 103.
Coming soon: Did the NSA actually capture the American Embassy in Iran disguised as "radical students"?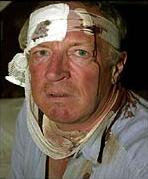 Thanks to CJ.
By the Way... If you're coming to this party late, you might wonder why people post that picture of Robert Fisk.
Basically, it's because after flacking for the Taliban and Al Qaeda immediately after 9/11, he was savagely beaten by outraged Afghans, and immediately sprang to their defense.
He also cries that he fought back against people trying to bash his head in with stones.
The more I bled, the more the crowd gathered and beat me with their fists. Pebbles and small stones began to bounce off my head and shoulders. How long, I remembered thinking, could this go on? My head was suddenly struck by stones on both sides at the same time – not thrown stones but stones in the palms of men who were using them to try and crack my skull. Then a fist punched me in the face, splintering my glasses on my nose, another hand grabbed at the spare pair of spectacles round my neck and ripped the leather container from the cord.

I guess at this point I should thank Lebanon. For 25 years, I have covered Lebanon's wars and the Lebanese used to teach me, over and over again, how to stay alive: take a decision – any decision – but don't do nothing.

So I wrenched the bag back from the hands of the young man who was holding it. He stepped back. Then I turned on the man on my right, the one holding the bloody stone in his hand and I bashed my fist into his mouth. I couldn't see very much – my eyes were not only short-sighted without my glasses but were misting over with a red haze – but I saw the man sort of cough and a tooth fall from his lip and then he fell back on the road. For a second the crowd stopped. Then I went for the other man, clutching my bag under my arm and banging my fist into his nose. He roared in anger and it suddenly turned all red. I missed another man with a punch, hit one more in the face, and ran.

I was back in the middle of the road but could not see. I brought my hands to my eyes and they were full of blood and with my fingers I tried to scrape the gooey stuff out. It made a kind of sucking sound but I began to see again and realised that I was crying and weeping and that the tears were cleaning my eyes of blood. What had I done, I kept asking myself? I had been punching and attacking Afghan refugees, the very people I had been writing about for so long, the very dispossessed, mutilated people whom my own country –among others – was killing along, with the Taliban, just across the border. God spare me, I thought. I think I actually said it. The men whose families our bombers were killing were now my enemies too.

...

Goddamit, I said and tried to bang my fist on my side until I realised it was bleeding from a big gash on the wrist – the mark of the tooth I had just knocked out of a man's jaw, a man who was truly innocent of any crime except that of being the victim of the world.

I had spent more than two and a half decades reporting the humiliation and misery of the Muslim world and now their anger had embraced me too. Or had it?

...

And – I realised – there were all the Afghan men and boys who had attacked me who should never have done so but whose brutality was entirely the product of others, of us – of we who had armed their struggle against the Russians and ignored their pain and laughed at their civil war and then armed and paid them again for the "War for Civilisation" just a few miles away and then bombed their homes and ripped up their families and called them "collateral damage".

So I thought I should write about what happened to us in this fearful, silly, bloody, tiny incident. I feared other versions would produce a different narrative, of how a British journalist was "beaten up by a mob of Afghan refugees".

And of course, that's the point. The people who were assaulted were the Afghans, the scars inflicted by us – by B-52s, not by them. And I'll say it again. If I was an Afghan refugee in Kila Abdullah, I would have done just what they did. I would have attacked Robert Fisk. Or any other Westerner I could find.
In his credit -- hey, he is consistently a mewling pussy.

posted by Ace at
01:50 PM
|
Access Comments