« Stupid Or Brilliant?
|
Main
|
Breast Cancer Awareness: The 50 Best Breasts In Film History »
October 10, 2007
John Edwards, Having An Affair?
Apparently there are emails... or supposedly, at least.
The National Enquirer claims to have enough of the Edwards cheating-on-cancer-stricken-wife story, including "bombshell" e-mails, to run with. ... P.S.: They "met in a bar."
Kaus has lots of links with those exclamation points that suggest there's more. I haven't dug in yet myself.
Shock: The MSM doesn't want to report this. Go figure.
Thanks to Dave At Garfield Ridge.
It's not old! Indeed, it's quite new!

Okay... Here's Kaus' dirt. Is he implying this as a guess or because he hears something but hasn't been legally cleared to say so?
In Kaus' bit, he notes the happy cheating couple met in a bar, then says "Sounds familiar!" with a hyperlink to this story about a woman producing Edwards' campaign "Webisodes:"
The Webisodes are the brainchild of Rielle Hunter, a filmmaker who met Edwards at a New York bar where Edwards was having a business meeting. "I didn't think it was John Edwards," Hunter recalls, "because the public persona did not mesh at all with the person who was sitting in front of me." Hunter pitched Edwards on the documentaries as a medium for bringing the "real John Edwards" to the people.
Rielle Hunter?
Is that girl's name? I dunno.
A bit more:
Edwards still has a ways to go. In the midst of a short theme sequence that begins each Webisode, the camera lingers over the former senator's behind as he tucks a starched white shirt into his pants. Still, Hunter, now under contract with Edwards's organization, says she sees the untucked John Edwards coming more and more to the fore.
Hm. I'll bet.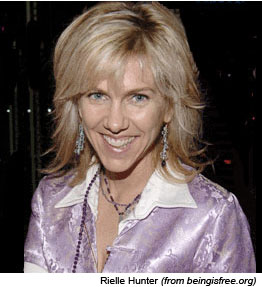 She looks a bit like Lief Garrett, doesn't she?

posted by Ace at
09:41 PM
|
Access Comments