« Very Late: Brit Loses Custody Of Kids; Given To K-Fed
|
Main
|
Stallone: Burma A "Hellhole Beyond Your Wildest Dreams" »
October 02, 2007
Mom Attempts To Live Frustrated Career As A Crackwhore Through Her Daughter
She wanted to be streetwalking gutterscrunt, but she never got her "big break." So apparently she's going to be a stripper-stage mom.
Either that or she's a real fan of Taxi Driver.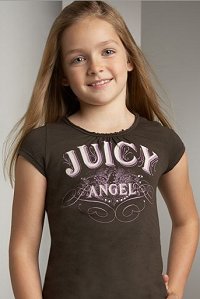 The kid was sent home from middle-school for wildly inappropriate attire. She's twelve.
The mother is outraged by the school's decision:
Ronda Gray, the mother, says school officials were out of line in deeming the shirt, part of the upscale Juicy Couture clothing line, inappropriate.

"In my opinion, the word 'Juicy' means sweet and nothing more," she said. "I mean, this is a brand made for toddlers, too."
In my opinion, you should wait at least until your daughter is fifteen until attempting to turn her out as a whore. Let's have some decency here, huh, Rhoda?
"Upscale Juicy Couture clothing line." Yeah. It's classy. Especially for children.
I find the "Juicy Angel" shirt a bit too crude and obvious. I prefer the more subtle Will Engage In Semi-Anonymous Oral Sex In A Futile Attempt At Validation and Combating Low Self-Esteem.
I also like the one that reads I Caught My Mom Fucking Her Parole Officer And It Bothered Me... But In A Hot Kind of Way.

posted by Ace at
04:25 PM
|
Access Comments