« Italians Don't Understand Economics
|
Main
|
SC 2 Were Carrying Bullets, Too »
September 06, 2007
Creeping Fascism Alert…Southwest Airlines Is Teh Fashion Police
I didn't realize that Southwest Airlines wasn't a discount airline that was more like taking the bus rather than an upscale aviation experience reminiscent of the heyday of aviation elegance. Silly me.
The airline tried to kick 23 year old Kyla Ebbert off a flight because one of the flight attendants found her clothing to be incompatible with the high standards Southwest Airlines expects from its customers:
After the plane filled, and the flight attendants began their safety spiel, Ebbert was asked to step off the plane by a customer service supervisor, identified by the airline only as "Keith."

They walked out onto the jet bridge, where Keith told Ebbert her clothing was inappropriate and asked her to change. She explained she was flying to Tucson for only a few hours and had brought no luggage.

"I asked him what part of my outfit was offensive," she said. "The shirt? The skirt? And he said, 'The whole thing.' "
Here's a picture of Ms. Ebbert and what she was wearing that day. Is that outfit really 'offensive'?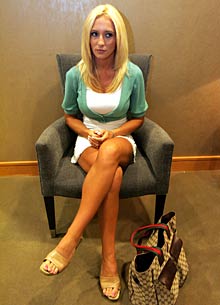 Ms. Ebbert, on behalf of AoS HQ I invite you to join us at our upcoming gathering of the morons (aka Acepalooza). I assure you no one will judge you. Stare at you and make awkward attempts to hit on you? Yes. But judge you, no way. And since you work at Hooters (which every article mentions for no apparent reason, much like this entry), could you get us a discount at one in Boston for the big shindig? Thanks.


posted by DrewM. at
11:46 AM
|
Access Comments