« We Support The Troops By Portraying Them As Psychopathic Rapists In Major Motion Pictures
|
Main
|
Strange Bedfellows »
September 03, 2007
Wicca Teacher Claims Part of Latest Mega Millions Lottery
"I just want to thank Gaia, the faeries Breena and Brucie, and the good folks at Mystickal Voyage Liquor and Wine"*
* I might be wrong about the name of the liquor store, the AP story is a little vague on facts, which is quite out of character for them. I might also be paraphrasing his expression of gratitude. Hey, he's grateful. That's a nice aspect of character.
Elwood "Bunky" Bartlett lays claim to at least part of the $330 million dollar jackpot.
Money won't change Bunky, he claims.
Bartlett said the money won't change him, although he plans to invest in Mystickal Voyage. "I'm going to live my life like I have been," he said.
Well hell, that's what I'd do. Wouldn't we all?
All the best Bunky. Good news pal, those missing relatives? You'll find them soon buddy. They will seek you out, to congratulate you.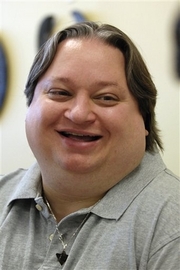 This world ain't so bad after all! It's magickal!

posted by Dave In Texas at
04:41 PM
|
Access Comments