« Fifty Years Ago, The Beatles Formed
|
Main
|
The New Seven Wonders Of The World »
July 08, 2007
"Multi-Boxing:" Playing Multiple (Five, Six, or Even More) Computer Game Characters Simultaneously
Barraged by insults by people directed to his site by Digg, the writer responds:
I am a bit disappointed at the "Southpark/Overweight/etc" comments and I hope that is a result of shortsightedness, misunderstanding or simple jealousy rather than genuine beliefs. I encourage you all to face each day with an open mind - and not one filled with stereotypes or preconceived notions. In 20 years, when your children are learning about the world in a virtual one - I hope some of you remember that not everybody who uses computers to communicate or for enjoyment is a social leper who deserves nothing else but to be beaten up. The geeks shall inherit the earth.
If you're playing one character, heck, you might as well play more than one. But this gets pretty expensive. It's not the idea of doing this that bothers me so much as the obsessiveness and self-indulgence required to do so. Like so: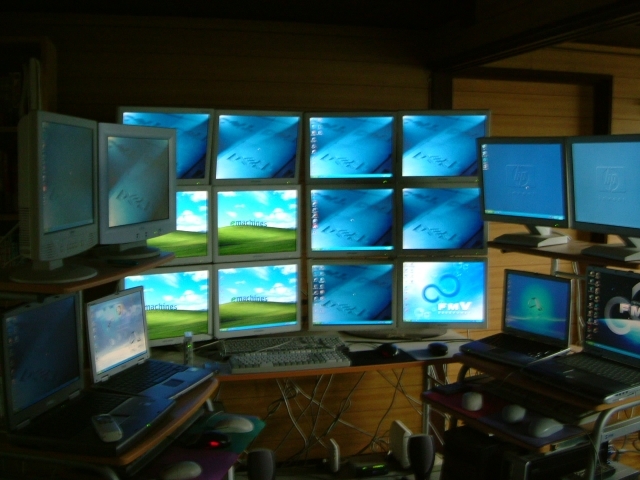 Guy's got more computers running than CTU during an alien invasion.
Not sure about this, but I imagine, in addition to ten or twelve different computers, this guy would also need ten or twelve different high-speed internet lines and ten or twelve WoW accounts. All so he can get maximum PWNag3 out of his dirty dozen of virtual alter egos.
Thanks to someone.

posted by Ace at
02:17 PM
|
Access Comments