« Okay, A Bit More on Immigration: Brownback Explains His Vote
|
Main
|
Pence Bill Banning Re-imposition of "Fairness" Doctrine Passes Overwhelmingly In House »
June 28, 2007
Pro-Amensty WSJ, Still Smarting Over Defeat, Demands To Know: WHERE DOES HOT AIR GET ITS FUNDING FOR ITS CUTTING-EDGE, LAVISHLY-PRODUCED POLITICAL ATTACK ADS?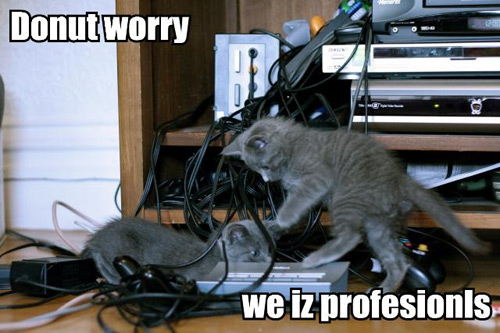 Jobs humans won't do.
It wasn't just talk radio that stirred up opposition to the Senate's overhaul of immigration law. The Internet buzz also drove the hostility to President Bush's effort to overhaul immigration laws and put millions of illegal immigrants on the path to legal status.

The Senate's 46-53 roll call in favor of limiting debate and clearing the way to a final vote fell 14 votes short of the 60 needed. Activists who say the bill amounts to a grant of amnesty for those who entered the U.S. illegally had popped up all over the Internet, directing supporters to call their senators' offices – or more.

Hot Air Network's Web ad, viewable at left, urged "conservatives fed up with Republican scheming on this bill, [to] do something about it. If you gave to the party in the past year, you can demand your money back. Call the Republican National Committee today and demand a full refund. If you gave to any senator or congressman in the past year, call their office and demand a full refund." Just who sponsors Hot Air's ad, and other similar ads popping up across the Internet, is unclear.
Geraghty has a strange theory on this mysterious sponsorship of ads, which I have no doubt the crack staff of the WSJ will follow up on.

Funny Comments: in the thread. See-Dub makes an appearance, but it's Adrian who delivers the funny.
HotAir.com is a conservative political commentary website with an emphasis on video blogging. It was started by Michelle Malkin. No one "sponsors" the ads; their crack young staff does this kind of thing for fun.

Full disclosure: I'm one of their occasional guest-bloggers.
Comment by See-Dubya - June 28, 2007 at 4:58 pm


...

"Just who sponsors Hot Air's ad, and other similar ads popping up across the Internet, is unclear."

Wow. Had to check the url there for a sec… thought I was at The Onion's site!

Please do a bit of research before you write next time.
Comment by Citizen Duck - June 28, 2007 at 5:42 pm

LOL! Who sponsors Hot Air? It's a mystery cloaked in darkness! Get someone on it immediately, I smell a Pulitzer!
Comment by WisCon - June 28, 2007 at 5:48 pm


...


I think the main question here is, will we ever really know who's sponsoring the comments left by See-Dubya, Citizen Duck, and WisCon?
Comment by Adrian - June 28, 2007 at 5:56 pm

Does it take any education to become a reporter? Do you even have to know how to think?

Who's behind HotAir's ads? I dunno… how about HotAir? Did it ever dawn on you to email them?
Comment by PRCalDude - June 28, 2007 at 5:56 pm
No, PRCalDude, it didn't. They're MSM. They just "know things" innately.

Responses... From Malkin and Allah.
Allah discloses their last two internet ads, cobbled together from video available on YouTube and voiced by non-professional actor Bryan Preston and edited via cheap software, cost $300,000 and $450,000 to make.
Shhh. Don't tell them that those numbers might be inflated for humorous effect. Let them now start demanding to know where Hot Air got that $750,000 from.
Boston Irish Just Emailed Me... calling bullshit on Allah's purported figures. There's no way such high-quality work could possibly cost less than one million dollars, he says.
This one-minute attack ad, against some guy he knows, for example, cost $5.8 million to produce.
WSJ Launches Major Investigation Into How Those Sixty-Nine Billion YouTube Videos Are Funded: They think this video -- with its blatant anti-Eastern-European subtext -- was most likely funded to the tune of $44 million by Richard Mellon Scaife.
I'm sweating bullets (ahem) that they won't find out Smith & Wesson paid me $143 million to appear in this brief advert for the S&W .50 Mag.
Who is this mysterious "Gene" we're all supposed to wait for?
Question:
Is the WSJ actually retarded?
Don't Even Get Me Started... on this incredibly costly CGI-heavy location-shot film, used by See-Dub to attack Lindsay Graham.
...suggested by PRCalGuy.

Heh... They corrected their "error," lamely. This isn't even correctable.
Hot Air is a conservative online broadcast site run by blogger Michelle Malkin.

...

Correction: An earlier version of this post said it wasn't clear who produced the Hot Air ads.
It's not correctable because
1) It wasn't a mistatement of fact, it was a slanderous insinuation
and
2) It was so fucking stupid in the first place that only deliberate malice combined with pure incompetence and disdain of fairness and accuracy can account for it. It was no "error."

posted by Ace at
06:07 PM
|
Access Comments