« Chris Matthews Ponders Fred Thompson's Sexiness, Man-Musk
|
Main
|
Write To Your Senators About Cloture -- It May Actually Be Working! »
June 15, 2007
Piece of Shit Amnesty Bill Joined By Three Competing Piles of Shit
One of the newly discovered piles of shit, I'm reliably informed, has a fair shot of getting cloture.
According to a Capitol Hill newspaper, police are unable to solve the mystery of the "caca caper."

...

[Roll Call reporter Emily] Heil continues, "On Wednesday afternoon, Capitol Police cordoned off a section of the hallway on the third floor of the Senate side of the Capitol, where at least three piles of the stuff were causing a stench — and a stir. At first, the word circulating among the staff was that a visiting child had fallen ill while in the gallery. But then the prevailing theory was that the foul stuff had come from an adult or group of adults making a yet-to-be-determined political statement."

According to the paper, "Reports also circulated that the yucky stuff had been smeared on seats in the gallery overlooking the chamber floor, and the gallery remained closed hours after the incident was first noted."
I have a theory.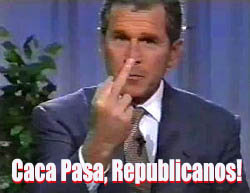 Thanks to Slublog for the p-shop -- that's "Shit Happens, Republicans" in Spanish, he tells me. He did that yesterday; I'm glad I held off.

posted by Ace at
03:59 PM
|
Access Comments