« 41+ NAYS; CLOTURE FAILS
Shockingly, Reid's Announcement of "Timetable For Withdrawal" Contributes Again To Defeat and Debacle
Recriminations Fly! It's Over!
|
Main
|
How They Killed The Monster »
June 07, 2007
Haiku The Bill
Dark Cloud Encircles Stupid, Stupid, Utterly Replaceable Trees On Hill
O poor Harry Reid
Unable to pull this coup
please kiss my beautiful round American ass, douchebag
That might not actually be in classic haiku format, but there's a rebellious mood in the air.
Please repost your previous entries from the other thread here, thanks!
This is not an exposition, this is a contest.
With real fakey-prizes and everything.
**From previous thread, a guaranteed spot in the top five for jdub:
A thousand times pwned!
im in republican base
killin ur dumb bill
Hilarious.
Added By Ace, P'Shopped By Slublog: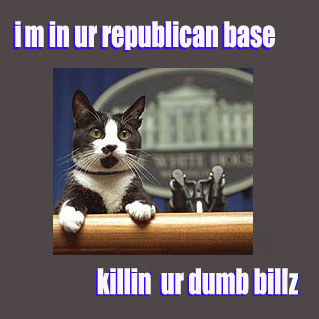 posted by Laura. at
09:32 PM
|
Access Comments