« What If Israel Began Kidnapping BBC Reporters?
|
Main
|
Internet Killed The Porno Star »
June 04, 2007
The JFK Bomber Who Got Away: Adnan Shukrijumah
The guy whose face I had plastered in the sidebars with FBI contact information for half a year. I took it down a month ago, figuring he wasn't in the country anymore.
Seems he was.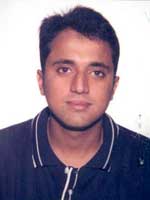 Way back, a commenter said she'd seen this guy, and alerted the FBI to his whereabouts (in Texas, at the time). They did in fact follow-up, but they wouldn't say if that tip had led anywhere.

I'm going to complain once again: I offered to host, for free, a revloving Most Wanted and/or missing kid pic in the sidebar. All the FBI had to do was give me the code and update it reguarly. I told them that not just my blog, but likely thousands more would run the code, putting out the pictures of wanted fugitives, suspected terrorists, or missing kids to hundreds of thousands of daily blog readers. Even Instapundit said he'd be interested, and I told the FBI that.
They never got back to me.
I called again. Again they never bothered with a follow-up.
So I gave up. It's not actually my job to publicize these people's faces. It's theirs. And if they can't be bothered, I guess there's not much I can do about that.
Their attitude seems summed up by a statement (paraphrased), "We already have a site for the Most Wanted."
Right. Getting, what now? 5-10,000 hits a day in total? And I'm guessing that's a rather generous estimate.
It's just flabbergasting to me that when the FBI is offered a huge amount of publicity about persons of interest -- surely at least as effective as notices in post offices -- and one dumb blog posting the pic even generates one apparently useful tip, they just blow it off.
Real bunch of forward-thinking self-starting go-getters over there, I see.

Bonus: Murtha Claims JFK Fuel-Bomb Plot Due To Iraq: Too bad we didn't have that Okinawan Rapid Response Force up and running or else we may have captured Shurkrijumah.
GEORGE STEPHANOPOULOS, HOST: I want to get back to my first question, but let me pick up on something you said just there. You believe that these homegrown terrorist plots are being inspired by the U.S. work in Iraq right now?

JOHN MURTHA, CONGRESSMAN: Absolutely. George, they were inspired by them all over the world. Our presence in Iraq, our occupation in Iraq, gives these people the inspiration. Now, we didn't have this problem before, they came from Afghanistan. But, now we even have it in the United States. So, I'm absolutely convinced that this is the kind of thing that inspires these people.

STEPHANOPOULOS: But we did have 9/11 before we went into Iraq.

MURTHA: Yeah, we had 9/11, but that came from Afghanistan. There was no, there was no al Qaeda in Iraq. We don't even know how many al Qaeda are in Iraq right now. For instance, we think a couple of thousand. They'll take care of al Qaeda. They'll get rid of al Qaeda. Our presence is inspiring them to recruit people all over the world. This is the problem we have.
It continues to amaze and astonish me that committed Wahhibist religious fanatics who worship Osama bin Ladin as a demigod are not at all nonplussed by our eviction of the committed Wahhabist religious fanatic regime known as the Taliban from Afghanistan, or from our direct attacks on bin Ladin, but are so incredibly angry about our assault on the "secular, unIslamic" Saddam Hussein.
Apparently Al Qaeda and its legions of followers and well-wishers take a highly nuanced view concerning which Islamic countries we attack and which Islamic leaders we depose. Bafflingly, Al Qaeda seems to take the position -- according to Murtha -- that Afghanistan is a "gimme," which they don't get upset about, taking an "Okay, my bad, that one's on me" attitude about the most ideal (and I use that word advisedly) Wahhabist state in the world.
The invasion of Iraq -- the "secular" state that had nothing at all to do with Al Qaeda -- makes Al Qaeda angry. But the invasion of Al Qaeda's home-base Afghanistan? They're just totally chill about it.


posted by Ace at
01:03 PM
|
Access Comments