« Some Seriously Messed-Up Crap
|
Main
|
Cool Facts About Fred Thompson »
May 01, 2007
Fred Thompson Admits To House Republicans: I Have A Fourteen Inch Penis Shaped Like A Corkscrew With Which I Rape Ducks
Well, that's pretty much what he said. Addressing the question of what skeletons may be in his closet, he said that, after his divorce, "I chased girls and girls chased me."
Meanwhile, political opponents going digging for dirt on Fred in public records, with an eye especially towards property records. I guess they're looking for property with (unenforcable, longstanding) racial covenants, slum properties, pollution point-sites, and who knows, maybe love-shacks for the numerous girls chasing him.
I don't see the fact that he chased tail after his divorce to be particularly troubling, given the nation's tolerance of Bill Clinton's doing the same without a formal divorce.
He's making all the right moves. I have a feeling that there's a bit more here -- most divorces don't end completely amicably, or without actual fault on one spouse's part -- but the admission of the obvious pretty much takes any serious political sting from it.
The MSM, of course, will go bananas over this, not because they disapprove of sex or even infidelity all that much themselves, but they're cocksure, if I may use that word, that social conservatives hate sex and cannot possibly support a man who can admire a nice set of knockers.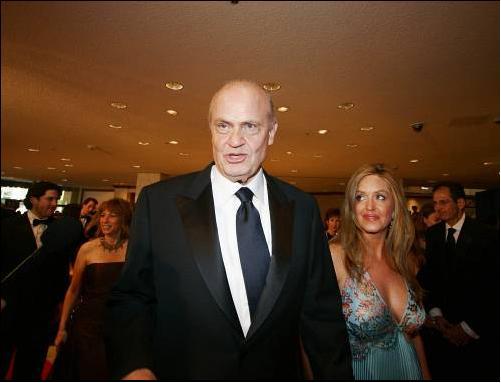 Football fan Fred Thompson watches
the Tennessee Titans in action.
Okay, so Fred Thompson is just one weird Nazi subplot, one shotgun decapitation, and one guest appearance by Charles Napier from essentially living in a Russ Myers movie.
But think America is ready for a leader like that.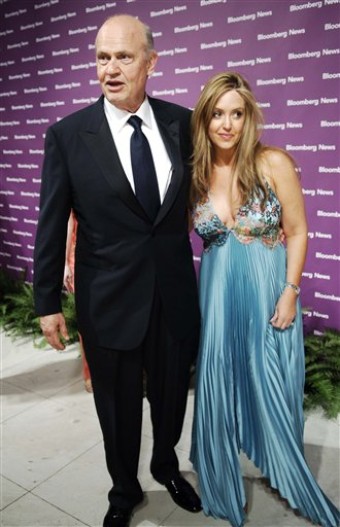 During a 80s pop festival, Senator Fred checks out
an encore appearance by the Thompson Twins.
Photos from this forum thread, which includes this (uncited) item:
If voters on the right think Rudy Giuliani's love life is too racy, what will they think about Fred Thompson? The former Tennessee senator, who is considering his own run for the GOP nomination, was a swinging single during most of his eight-year tenure in the Senate, making him a favorite of gossip columnists, who often referred to him as the "Tennessee Stud." Just weeks after winning his first campaign for the Senate in 1994, Thompson was spotted waltzing with country singer Lorrie Morgan, who dated him for more than a year. "He's a wonderful man. He's very special to me - he really understands me," Morgan said at the time, telling reporters they had even considered marriage. But alas, it wasn't meant to be. By 1996, they were splitsville. One reason: she didn't like dressing the part of a conservative Republican. ("Get that basic black dress out of the closet," Morgan wrote in her 1997 autobiography, "Forever Yours, Faithfullly." "And no cleavage, baby!")

But Hollywood Fred, as he is sometimes known, was no lonely heart. Over the years, Thompson was linked to plenty of other woman around Washington, including GOP pollster Kellyanne Fitzpatrick (now Conway) and fund-raiser Georgette Mosbacher. In 2000, his love life got a little messy, spilling onto the pages of the New York Post's famed Page Six. His then-girlfriend (and future wife) Jeri Kehn complained to Page Six that "all these women" were constantly gunning for her man. "They just won't leave him alone," Kehn told the paper. "I can't get up to get a cocktail at a party without coming back and finding some girl sitting in my chair." Kehn, who inisisted she was dating Thompson, singled out one lady in particular: then-Time magazine columnist Margaret Carlson. "She won't get the hint he has a girlfriend," Kehn complained. "She calls his apartment all the time. I mean, what is the deal with these woman? Don't they have any pride? It's a joke all over Washington that Margaret has a huge crush on him. And Fred clearly is not interested."

Mee-ow!

At the time, Carlson refused to comment, but Thompson, clearly unhappy with Kehn's outburst, issued a terse statement to The Washington Post. "I don't generally comment on these matters," he said. "But as it relates to statements made about my friend Margaret Carlson, there's not a bit of truth to them. I should be so lucky."

Thompson married Kehn in 2002, and they now have two young kids. Apparently Carlson, who is now a columnist for Bloomberg News, still likes Thompson, in spite of the dustup. Carlson, who did not respond to an e-mail from Newsweek inquiring about the matter, was spotted on "Hardball" with Chris Matthews last week, swooning over a potential Thompson candidacy. "He's handsome, he's charming, he sounds like a president-. He's smart, he's articulate, he knows his line, he can hit his mark," Carlson said, predicting that he'll jump in to the 2008 race soon. "For the press, he would be the new McCain because he does seem honest and open."
Even uberliberal Margaret "soldiers based in Florida are a bunch of draft-dodgers" Carlson has a schoolgirl crush on him? Damn.
I'm beginning to feel the need for a Cool Facts About Fred Thompson thread.

posted by Ace at
03:42 PM
|
Access Comments