« Romney: I'm A Lifelong Hunter. And By "Lifelong," I Mean I Hunted Once As A Child, And Then Once Again Last Year
|
Main
|
Islam and the Death of Feminism »
April 05, 2007
ID This Child Celebrity Mugshot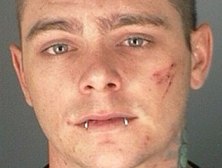 [The suspect] was arrested in Denver after his girlfriend told police officers that he poured an alcoholic drink on her face while she slept, then put her in a choke hold and flung her on to a bed when she attempted to leave.
Hints:
1) He was blonde.
2) When he was on TV, he didn't yet have the vampire lip-rings.
3) He was the little brother.
4) As TV kids are wont to do, he rapidly aged from being born to suddenly being around 4 years old over one summer break.
5) He worked with Justine Bateman.
6) He knew what was his.
7) He can be seen here.
Story here, and also the answer, if you're frickin' stupid.
Thanks to herbert.

posted by Ace at
11:39 PM
|
Access Comments