« Weird Science
|
Main
|
Albright Suggests We're Arranging A New Gulf of Tonkin »
March 30, 2007
Michael Jackson Wants 50-Foot Robot of Himself That Shoots Laser Beams From His Eyes
Well, so do I. So what?
I know: But Michael Jackson can actually make this happen, whereas I can't.
I don't think so. I think we're both in the same not-enough-money-for-a-50-foot-doppleganger-robot boat.
One of us is simply sane enough to realize that.
Michael Jackson is in discussions about creating a 50-foot robotic replica of himself to roam the Las Vegas desert, according to reports.

The pop legend is currently understood to be living in the city, as he considers making a comeback after 2004's turbulent child sex case.

It has now been claimed that his plans include an elaborate show in Vegas, which would feature the giant Jacko striding around the desert, firing laser beams.

...

Luckman Van Pier, his partner at the company behind the proposal, claims blueprints have been drawn up for the show and seen by the star.
Wow. He's even got blueprints.
"Michael's looked at the sketches and likes them," he told the New York Daily News.

On the subject of the robot, he continued: "It would be in the desert sands. Laser beams would shoot out of it so it would be the first thing people flying in would see."
Well, Vegas is forever trying to sell itself as a "family friendly" vacation destination. Nothing can be more reassuring to parents than to know there's a 50 foot Michael Jackson robot prowling around the city, plying their children with wine and pornography.
I've got to get Yaron from the Daily Lunch in touch with Jacko: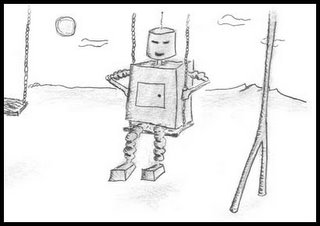 He could make a fortune doodling little robots for the fey freak. Could use it to cover the bandwidth for his new-ish site.
Thanks to Drew, who writes, "It's almost an old story, so I understand if you want to sit on it for a few days until it's officially old."
Hah. Yeah, I saw it on Hot Air. Figured everyone else did. Also figured the odds of this ever happening are about as good as Kramer ever building his apartment into "nothing but levels."

Snark: Tushar--
All the 10 foot Robots in the world are getting uneasy at the news.

posted by Ace at
04:39 PM
|
Access Comments