« Old Comment System May Be Down For Good
|
Main
|
New Japanese Supertelescope Reveals Runaway Industrial Pollution, Cow Farting On Surface of Sun »
March 22, 2007
Andrew Sullivan vs. Andrew Sullivan
Just delightful. First, John Edwards is a hero for ending his presidential campaign to tend to his wife:
Edwards Suspends Campaign

22 Mar 2007 12:17 pm

He does it because his wife has a recurrence of cancer in some degree to be further explored. It is of a piece with his character to do this; and a simple testament that he has the right priorities and values to be a president of the United States. Sorry, Ms Coulter. But this man will be remembered for a character you do not even want to possess.
I enjoy the unnecessary dig at Coulter, too. Like Coulter's offense was mocking a Democratic candidate, rather than using the word "faggot." But whatever. One track mind for Andy.
Just twenty two minutes later, Edwards announces he won't be suspending his campaign to tend to his wife. Sullivan's take? He's a hero for that, too!
Edwards Forges On

22 Mar 2007 12:39 pm

So, despite earlier reports, Edwards will not suspend his campaign. Good for him. The diagnosis is not as dire as it seemed only a little time ago, it seems. And if anyone did not know of Elizabeth Edwards' extraordinary character before, they do now. What I saw in this press conference was the reality of family values - not the rhetoric, not the divisiveness, not the politics, just the reality of an actual family dealing with real issues. We all face such issues. Cancer survivors and their families know it all too well. So do those of us who live with HIV, diabetes, Parkinsons and many other diseases that patients can now live with, rather than die from. In this, John Edwards is doing a public service. He was admirably candid about his wife's cancer being treatable, if not curable. That paradigm is increasingly common - and it's affirming to see someone in public life live through it so positively, so admirably and so passionately. She shouldn't give in to it. One key to surviving serious illness is to live positively and candidly while you treat it. With HIV, I learned to repeat to myself a triad that was essential to surviving any serious medical condition: Own it, face it, beat it. That's what the Edwardses did today, and they will help a lot of people through their example.

The campaign should go on, as life goes on. The cancer should neither help nor hurt it. But I will say this: Elizabeth Edwards is a truly remarkable human being. And her marriage is an inspiration.
Incidentally, I had similar thoughts through the news process -- Edwards is a nice guy for dropping out of the race, then Edwards is selfish, then finally "Who the hell am I to have any opinion whatsoever on how a family deals with cancer?" -- but I didn't blog them.
I run a slapdash blog that's often much too stream of consciousness and first (poorly considered) draft for its own good. But honestly, no one can compare with Sullivan on this score. He's got a screechy, shrill, 100% absolute opinion on everything, but this opinion often reverses itself completely in the course of a day or two.
But 22 minutes for such a shift? That's a new record, even for Sullivan.
He defends this habit by claiming he's just trying to give an "honest" account of his thinking as the day goes on. Well, for one thing, it may be "honest" to constantly offer up one's stream-of-consciousness barely-even-given-a-first-thought-let-alone-a-second, but who wants to read that?
For another thing, it's simply not honest. True, people have kneejerk opinions that may reverse themselves over a period of time. But the dishonesty comes from Sullivan's strident, absolutist, fulsomely emotional attachment to each and every of his micropunditries, e'er accusing those who disagree of bad faith and bad motives, despite the fact that Sullivan himself frequently disagrees 100% with Sullivan.
Sure, people change their minds. But do normal, non-psychotic people change their minds with such passionate devotion to all of their conflicting opinions? Is Sullivan honestly psychotic in that manner? Or his his hyperemotional, archjudgmental rhetorical style simply fundamentally dishonest, the tactic of a sloppy-thinking hack trying to buttress his shabby analytical skills with constant namecalling, venom, and appeals to emotion?
I can go either way on that one; I'm of two minds on that question.*
To be honest with you.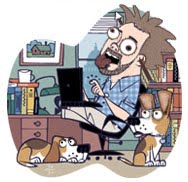 Thanks to Kevin.
* Actually, I'm not. I think it's the latter. I was never as impressed with Sullivan's heartfelt, soaring, childishly naive rhetoric in favor of the war as other war-supporters seemed to be. It always seemed to me all emotion. No crunch of fact or analysis. Just glib idealism, sometimes embarrassing hero worship for Bush which I myself found distasteful, and nasty, venomous attacks on anyone who disagreed with him.
It was in the last capacity Sullivan was at his best. Everything sounds better in a British accent as they say, and it was nice to see some elevated namecalling with words we don't hear often enough like "vile." But namecalling is still just namecalling. Calling someone "vile" sounds nicer than calling them a "fucking asshole" -- and like your teachers told you, there always is a nonprofane manner of making a point that's better than simpler resort to profanity -- but at the end of the day calling someone "vile" isn't really any different than calling them a "fucking asshole."
It's more rhetorically effective to call them vile, but that's just rhetoric. Better rhetoric, yes, but still just empty rhetoric. Again, no crunch.

Sweet: From someone calling himself "Andrew Sullivan."
Cornflakes are the best breakfast cereal

March 22, 2007 - 2:13 p.m.

This morning, shortly after rising from my bed and looking at the view from my window, I walked to the kitchen to get myself a bowl of cornflakes. I did so with the full realization that while some may think this breakfast cereal the stuff of kitchy, nostalgic commercials and Eisenhower-era repression, I believe that my breakfast choice is a testimony to the simple human decency of the American farmer and their hard work. Hard work made harder by Bush administration policies.


Actually, make that Frosted Flakes

March 22, 2007 - 2:15 p.m.

After pouring myself a bowl of cornflakes, I realized how plain, how pedestrian they looked. If this was the best the American farmer could do, then America is truly doomed under the reign of King George. The cornflakes at the bottom of the bowl were far too homogenous - there was no spice, nothing to make them special. So in an act of supreme self-empowerment, I poured the cereal down the drain, content in the thought that I was ridding America of this mockery. I poured myself a bowl of Frosted Flakes, which are without a doubt the best breakfast cereal on earth.
Can Andrew Sullivan ever just say "I guess I just don't know" or "I'm not sure what my opinion is" ever? I know he offers such statements retroactively to square his wildly contradictory previous stances (and then, of course, pats himself on the back for practicing the "politics of doubt").
But he rarely offers such sentiments in the actual moment, or caveats an opinion with doubt as he's writing it. Sure, when you call upon him later, he'll talk about the exquisite torment of living with doubt, and how that makes him better than you, etc.
But as he's churning out his half-baked opinions, he doesn't seem very doubtful at all. When he's actually hacking this crap out, he's supremely confident that he is right and that you are a fucking asshole if you disagree with him.
Or, rather, you're "vile" to do so.

More Andrew Sullivan Opinionizing! From the comments:
I like Coke, but I hate Pepsi

March 22, 2007 - 1:24 PM

I realize now more than ever that Coca Cola is the one for me. I am given to understand that the cowboys in the White House drink nothing but Pepsi, which is fine if you happen to be a Christianist pedant with a nose for a vintage that is a month and not a year. I will never understand how we came to this place in history, an addled tyrant for a Chief Executive whose penchant for pandering to the extreme right is matched only by his desire to control our lives, rip away our liberty and privacy, and encroach upon the citizens he claims to represent.

I hate Coke, but I love Pepsi

March 22, 2007 - 1:56 PM

It appears as though Bushco is much more heavily invested in CCE than Pepsico, hardly a surprise given their willingness to play both sides of any issue without regard for principle or dignity. Frankly I'm surprised he divested his Halliburton shares in favor of the Atlanta-based beverage interest, but I'm sure there are things going on behind the scenes. It's only a matter of time before we are all forced to accept that Coke Zero is replacing Diet Pepsi across the nation. A chill wind indeed!
And the "politics of doubtless doubt" continue with regard to breakfast cereals:
Kellogg's Anti-Gay Rhetoric

March 22, 2007 - 2:30 p.m.

Last night, I was watching "American Idol" (go Sanjaya!) and during the commercial break, saw an advertisement that struck me to the core. It seems the Kellogg company wants American consumers to purchase a cereal called "Froot Loops." At first, I thought the commercial must be a joke - surely no one, not even a Christianist, would think of something so vile, so hurtful. But I did some research and found out that yes, there is such a cereal and it's actually widely sold in the heartland of this country, no doubt to those who believe Ann Coulter is a minor deity.

I thought America had sunk as low as possible under King George and his minions.

I guess I was wrong. Shame on us.

posted by Ace at
02:05 PM
|
Access Comments