« Family -- Ma, Pa, Son -- All Arrested For Molesting, Murdering 6 Year Old Boy
|
Main
|
Larry "Bud" Melman, aka Calvert DeForest, RIP »
March 22, 2007
Supportin' The Troops, Lefty Style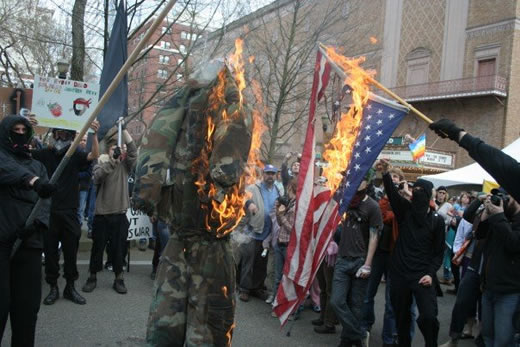 And a poster reads Fuck The Troops, in case Jane "I Just Got These Talking Points Five Minutes Ago" Fleming wants to claim this is their way of supporting the troops, by giving them a Johnny Storm-style "Flame On!" shout-out.
Fleming claims that this sentiment is not widespread at all on the liberal side of the aisle. Gary Kamiya, a writer at Salon, would beg to disagree.
He wrote this shortly after the Fall of Baghdad, heartbroken that Saddam's troops hadn't killed more Americans. I'm not exaggerating -- he actually says this.
I have a confession: I have at times, as the war has unfolded, secretly wished for things to go wrong. Wished for the Iraqis to be more nationalistic, to resist longer. Wished for the Arab world to rise up in rage. Wished for all the things we feared would happen. I'm not alone: A number of serious, intelligent, morally sensitive people who oppose the war have told me they have had identical feelings.

Some of this is merely the result of pettiness--ignoble resentment, partisan hackdom, the desire to be proved right and to prove the likes of Rumsfeld wrong, irritation with the sanitizing, myth-making American media. That part of it I feel guilty about, and disavow. But some of it is something trickier: It's a kind of moral bet-hedging, based on a pessimism not easy to discount, in which one's head and one's heart are at odds.

Many antiwar commentators have argued that once the war started, even those who oppose it must now wish for the quickest, least-bloody victory followed by the maximum possible liberation of the Iraqi people. But there is one argument against this: What if you are convinced that an easy victory will ultimately result in a larger moral negative--four more years of Bush, for example, with attendant disastrous policies, or the betrayal of the Palestinians to eternal occupation, or more imperialist meddling in the Middle East or elsewhere?

Wishing for things to go wrong is the logical corollary of the postulate that the better things go for Bush, the worse they will go for America and the rest of the world.
It is now almost four years since Gary Kamiya wrote that. The left has never condemned him for his remarks nor disavowed his hopes for an American defeat; indeed, shortly after he wrote this, dozens of letters were published by Salon praising him for his "courage" in admitting what so many secretly believed.
He has not been fired. He was never disciplined. He has never so much as faced any real criticism from anyone on the left for this hateful, anti-American, praying-for-troop-deaths sentiment.
So spare me the claim that just a "few bad apples" are actively supporting our enemies. It's more than a "few bad apples."
It's the majority of the Democratic base.


posted by Ace at
01:14 AM
|
Access Comments