« Obituary: Comedian Richard Jeni
|
Main
|
Kagan: The Surge Is Working, But The Media Has No Back-Up Plan »
March 12, 2007
NYT Shock Trend: Hollywood To Abandon Long History of Right-Wing Messaging In Favor Of Left-Wing Messaging
Hollywood, this NYT writer informs us, has suddenly discovered "environmental villains" as heavies in its movies.
Dumping Hollywood villains of the past — drug lords, aliens, North Korean dictators, even the news media — for an environmental bęte noire carries risks for studios that don't mind frightening viewers, as long as it's all in fun.
Yes yes, so many Hollywood movies feature "North Korean dictators" as a villain (well, one: Team America: World Police) and so, so many have featured "the news media" in that role (again, one I can think of: the lame James Bond flick Tomorrow Never Dies).
But it also hints at the possibility of more sophisticated entertainment, and perhaps even the kind of impact that "The China Syndrome," with Jane Fonda and Michael Douglas, exerted on the nuclear power industry when it came out in 1979.
Cartoonish depictions of drug lords in order to provide the necessary "pure evil" attribute in Hollywood villains: Unsophisticated, knuckle-dragging pap for inbred yahoos.
Cartoonish depictions of industrialists in order to provide the necessary "pure evil" attribute in Hollywood villains: "a more sophisticated entertainment."
One example of this "more sophisticated entertainment" the NYT is so pleased about? Michael Bay's The Transformers movie.
In "Transformers," which DreamWorks and Paramount Pictures are scheduled to release on July 4, robot warriors escape a planet laid waste by civil war, only to arrive on Earth as it faces similar devastation. Mr. Orci added that he had seen a number of development projects recently in which the monster was created by environmental change.
Yes, we will all thrill to the deep, sophisticated entertainment of watching Optimus Prime, part robot, part semi-trailer truck, all kick-ass fightin' machine, explain the dangers of greenhouse gasses to his nemesis Soundwave, a robot that can turn into a cassette tape player.
And that will be followed up by the "more sophisticated entertainment" offered by a remake of no one's favorite moster movie, The Creature From the Black Lagoon:
The source of that change hews closely to Hollywood convention: the exploiter is often a big corporation wreaking havoc by its greed. In "Creature From the Black Lagoon," the remake that may be shot by Universal Pictures later this year, the murderous fish-man of the Amazon is spawned by the sins of a pharmaceutical giant. "It's about the rain forest being exploited for profit," explained Gary Ross, a writer and producer of the film, whose previous movies include "Seabiscuit."
Hopefully that will prove so successful we'll finally get that remake of Robot Monster we've all been waiting for: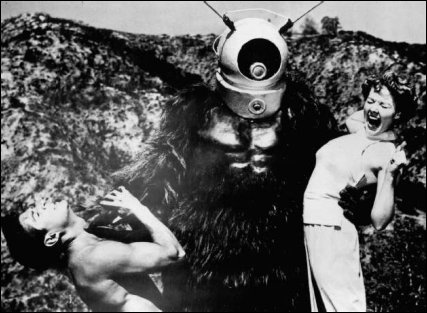 Sure, it looks silly -- an ape-suit with a space-helmet -- but when I tell you the Robot Monster was spawned by elevated methane levels produced by factory farms -- more sophisticated entertainment, non?
Japan's been making this sort of "more sophisticated entertainment" since the 1950's. It's called the Godzilla franchise. Check it out. How the Academy Awards have passed over this "more sophsiticated entertainment" for a half century is beyond me, but then, there's always hope.
As they say: Oscar loves a survivor and Oscar loves Hollywood royalty.
Script Pitch: I have an environmental villain in mind.
Let's say a hypocritical theoenvironmentalist begins screaming that doctors and scientists shouldn't jet around the world in order to attend conferences due to the carbon emissions that produces.
Wouldn't it be interesting if that theoenviornmentalist was himself jet-setting around to deliver his Cassandra cry?
Someone call me; I smell a "more sophisticated entertainment" that could make a hundred million bucks.
A "More Sophisticated Entertainment" Hollywood Has No Interest In: The writer, Michael Ceply, seems to mean that "more sophisticated entertainments" feature real villains, not invented, imaginary ones.
So he's claiming North Korean dictators running ganster regimes of kidnappers, counterfeiters, drug-runners, and nuke-technology salesmen are not "real" in the sense impending climatic doom is. And drug lords, who routinely assassinate cops and judges in Latin America, aren't "real" enough, either.
Fine.
Can anyone think of real world villains who are at this very moment killing innocent people and conspiring to kill thousands, if not hundreds of thousands, more, all due to the vicious notion that psychopathic mass-slaughter is commanded unto them by their Murder God?
Is that "real" enough for Hollywood? A real-world problem that could use a bit of illumination?
A, dare I say it, "more sophisticated entertainment"?
Nah, there's too many other threats that are more dire. Like rampant farting by cows.

posted by Ace at
01:49 PM
|
Access Comments